If you are reading this far back, welcome. This is technically my first blog post – from 2012. It took 3 years, but I finally got here.
For months, one of my partners and I were planning a Turkish coffee night at Starbucks. I was in charge of the food (naturally) and I made a huge spread of my take on Turkish sweets. One of my favorite things I made were these turkish coffee cookies. Coffee, chocolate and cardamom all rolled in to one delicious cookie!
These cookies were actually sandwiched between rosewater and pistachio ice cream, but they were so good on their own, so I have to share!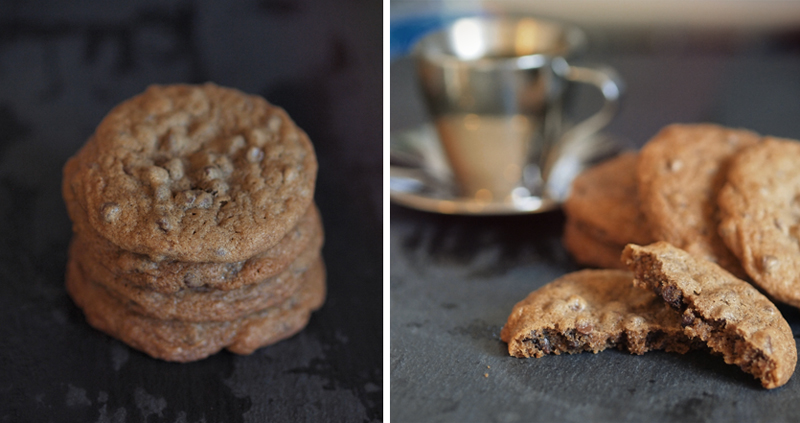 turkish coffee chocolate chip cookies
Ingredients
2 packages of Italian roast VIA
1 tablespoon ground cardamom
2¼ cups all-purpose flour
1 teaspoon baking soda
1 teaspoon salt
1 cup (2 sticks) butter, softened
¾ cup granulated sugar
¾ cup packed brown sugar
1 teaspoon vanilla extract
2 large eggs
2 cups mini chocolate chips
Instructions
preheat oven to 375° F.
combine flour, baking soda and salt in small bowl. Beat butter, granulated sugar, brown sugar, VIA, cardamom and vanilla extract in large mixer bowl until creamy. Add eggs, one at a time, beating well after each addition. Gradually beat in flour mixture. Stir in chocolate chips. Drop by rounded tablespoon onto ungreased baking sheets.
bake for 9 to 11 minutes or until golden brown. Cool on baking sheets for 2 minutes; remove to wire racks to cool completely.