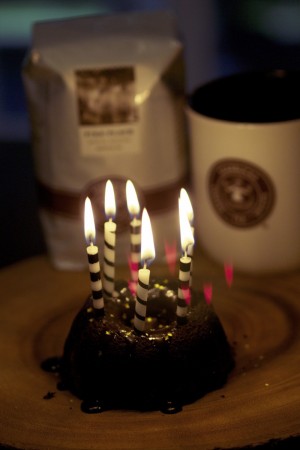 On April 8th 2008, Pike Place Roast was introduced! Ever since then, this coffee has been our every day brew from open to close.
Here in Seattle, there is a Special Reserve Pike Place that is only sold in two stores, the original 1912 Pike Place store, and around the corner at 1st and Pike. This blend was created in 2003 to commemorate the first Starbucks store. Inspired by our rich history, this is a blend of three Latin American beans; Costa Rica Bella Vista, Guatemala Antigua and Colombia Nariño Supremo. Pike Place Special Reserve is roasted a bit darker than usual, is incredibly smooth with a touch of roast intensity.
Every year I celebrate Pike Place day, and I always bring a bag of Pike Place Special Reserve to kick things off. This is Starbucks history in a cup.
Pike Place Special Reserve is a medium bodied coffee with a medium acidity. With it's complex flavors, it pairs well with nuts, cinnamon, brown sugar and chocolate. I had the perfect recipe for this, an old bundt cake recipe from the 50's, given to me by a friend whose mother baked this cake on special occasions. Her original recipe had more of a german chocolate cake vibe to it, but I was able to tailor it to this coffee. The result is a delicious moist cake with a strong coffee forward flavor. This recipe will also pair very well with Guatemala Antigua, Veranda, Yukon Blend and Bainbridge Island blend.
Happy Birthday Pike Place Roast
Ingredients
For the bundt cake


2 cups sugar
1 cup oil
2 eggs
3 cups flour
¾ cup unsweetend cocoa powder
2 teaspoons baking soda
2 teaspoons baking powder
1½ teaspoon kosher salt
2 sticks of Starbucks VIA dissolved in 1 cup of hot water
1 cup buttermilk
1 teaspoon vanilla extract
½ cup chopped walnuts


For the filling


¼ cup sugar
1 teaspoon vanilla extract
8 oz brown sugar cream cheese, softened (regular cream cheese will work too)
1 egg
1 cup dark chocolate chips


For the glaze


1 cup powdered sugar
3 tablespoons unsweetened cocoa powder
1 stick of Starbucks VIA
3 tablespoons of butter, room temperature
2 tablespoons vanilla extract
1-3 tablespoons of hot water
Instructions
Generously grease and flour a 10" tube cake pan.
Preheat oven to 350.
Prepare the filling. Add all of the filling ingredients in a bowl. Mix until fully combined. Set aside.
To prepare the cake, in a large bowl or stand mixer, combine the sugar, oil and egg. Beat on high for 1 minute.
Mix the flour, cocoa powder, baking soda, baking powder and salt in a bowl. Whisk until combined.
Dissolve the VIA in hot water, and mix until fully dissolved.
Gradually add the dry ingredients, alternating with the coffee and buttermilk.
Once the coffee, buttermilk and dry ingredients have been combined, add the vanilla, beat until combined.
Stir in nuts by hand.
Pour about ¾ of the batter into the prepared pan. Spoon the filling on top, keeping it in away from the edge of the pan if possible. Gently pour the remaining batter over the filling.
Bake for 60-65 minutes.
Once the cake has cooled, prepare the glaze.
Mix all of the glaze ingredients together, slowly incorporating the hot water at the end. Add water until you achieve your desired consistency.