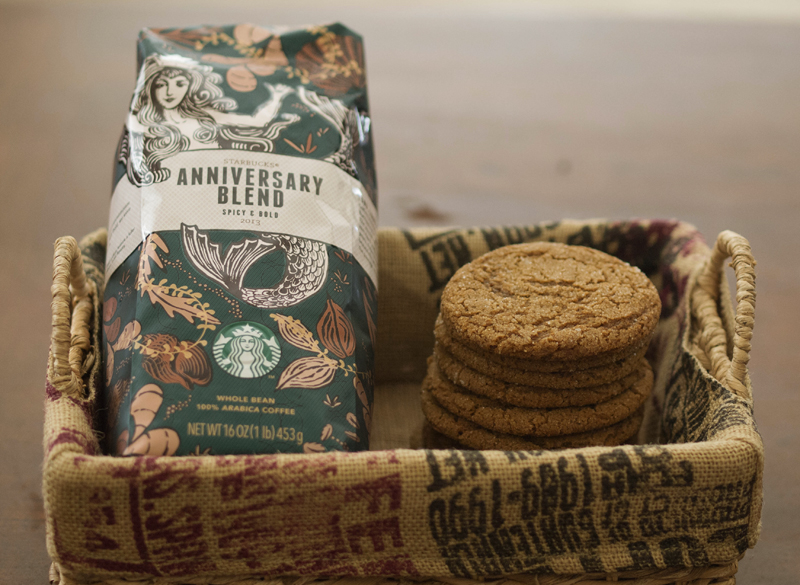 i brought these cookies into work and announced "i made cookies! and guess what.. i didn't use ANY butter!"
cookies without butter? sounds terrible! or healthy. or both………
don't worry, i used bacon fat instead!
it just so happens that these sinful cookies pair perfectly with this years anniversary blend! the bacon fat really brings out the buttery nature of the coffee, while the bourbon brings out a touch of cedar notes. this is a complex pairing, and i think i may have overwhelmed some of my partners with it (the thought of using bacon fat in a cookie could be overwhelming to some!) but the combination of the warmth from the bourbon and the spices mixed with the heavy savoriness of the bacon fat really make this coffee sing.
anniversary blend with bourbon bacon fat gingersnaps
Ingredients
¾ cup bacon fat at room temperature
1 cup sugar, plus more for rolling
¼ cup molasses
1 egg
2 cups flour
2 teaspoons kosher salt
2 teaspoons baking soda
2 teaspoons ginger
½ teaspoon cloves
½ teaspoon cinnamon
1 tablespoon bourbon (i use makers mark)
Instructions
whisk together flour, salt, baking soda and spices. combine bacon fat, sugar, molasses, bourbon and egg in the base of a stand mixer until fully incorporated. add dry ingredients to the mixture and beat on high for five minutes. pour dough into saran wrap and refrigerate until firm, at least two hours.
preheat oven to 350 degrees, and line your baking sheets with parchment paper. Break off 1 tablespoon lumps of the dough and roll into balls, then roll in sugar until coated. evenly space them on the baking sheets and bake for 12-13 minutes until dark brown. let rest on the baking sheets to harden slightly before transferring to a wire rack to cool.