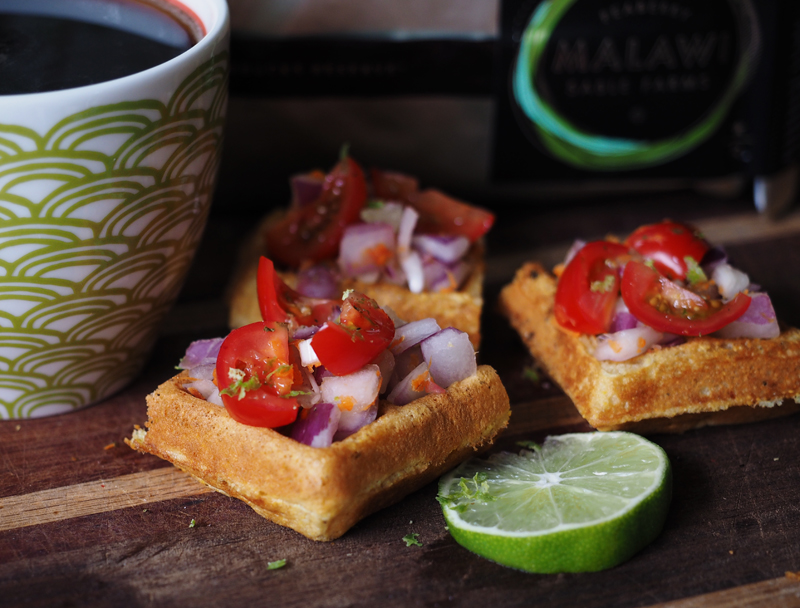 Peaberry. What is a peaberry? Normally, two beans grow inside a single coffee cherry but occasionally the cherry only produces one bean, or seed, inside the fruit.  The round-shaped bean that forms when one of the two flat-sided beans in the coffee cherry fails to grow is called a peaberry. Dense and uniform in size, they roast more evenly. You've heard the saying good things come in small packages, right? Though small in size, the peaberry's internal development gives it an intense and concentrated flavor.
This is the third offering from Malawi, a country with one of the smallest coffee yields in East Africa. Malawi sable farms packs a punch, with a vibrant splash of lime zest, and spicy and complex citrus notes. I can taste the great care and pride from the farmers in this cup, and I wanted to create a pairing that would honor the coffee farmers of Malawi.
I started researching Malawian cuisine, and I came across a staple across Africa. In Malawi, this dish is called nsima. It is a paste made from maize flour and cornmeal, and is served with a variety of dishes. Since this coffee begs for a savory pairing, I thought I would make a nsima inspired waffle; a cornmeal waffle filled with a variety of spices like grains of paradise, cumin, coriander and paprika. Another dish that caught my eye was sumu, or kachumbari. Sumu is essentially a tomato and onion salad, almost like a pico de gallo, and would be perfect on top of my waffles!
In researching all of the food and the culture of Malawi, it really opened my eyes to how special this coffee is, and this isn't just a cup of coffee, this is the heart and soul of the coffee farmers in Malawi. I think I was able to put together a pairing that does this coffee justice, and to date, this is one of my favorite pairings I have put together.

Nsima inspired waffles
Ingredients
1¾ cups buttermilk
2 eggs
5 tablespoons butter, melted and cooled
1½ cups flour
1 cup yellow cornmeal
2 tablespoons sugar
2 teaspoons baking powder
1 teaspoon baking soda
1 teaspoon salt
1 teaspoon ground cumin
1 teaspoon ground grains of paradise
¼ teaspoon black pepper
Instructions
In a medium-sized mixing bowl, whisk together the buttermilk, eggs and melted butter.
In a separate bowl, blend together the dry ingredients, then quickly and gently combine the wet and dry ingredients.
Let the batter sit for 10 minutes, to allow the cornmeal to soften.
Drop the batter by ⅓-cupfuls onto a hot waffle iron, and bake until the waffle iron stops steaming.
Kachumbari
Ingredients
2 tomatoes diced
½ large red onion diced
1 medium carrot, grated
Juice and zest from 1 lime
Chopped fresh cilantro or parsley
Salt and black pepper to taste
Instructions
Combine all ingredients, and season with salt and pepper to taste. Super easy!