Evolution Fresh makes delicious cold pressed juices, but here in Seattle there are a handful of cafes that also serve food. One of my favorite things to get is the 'all greens scramble' (eggs broccoli, spinach, kale, zucchini and a lemon-tahini sauce). You can taste the freshness in everything they serve, from drinks to food, and I was inspired to make a condiment so I could make my own Evolution Fresh inspired meals at home!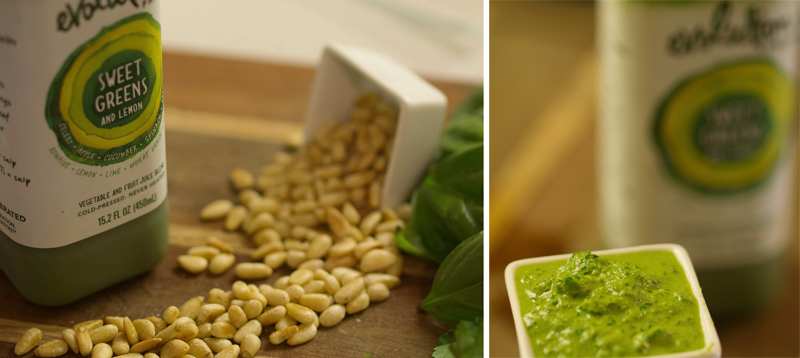 sweet greens pesto
Ingredients
½ cup evolution fresh sweet greens cold pressed juice
2 tablespoons olive oil
1 tablespoon lemon juice
1½ cups firmly packed fresh flat-leaf Italian parsley
½ cup firmly packed fresh basil leaves
½ cup toasted pine nuts
½ cup grated parmesan cheese
3 cloves garlic
½ teaspoon salt
Instructions
In a food processor or blender combine all ingredients. Cover and process or blend until almost smooth. Can be stored in the refrigerator for up to 2 days.