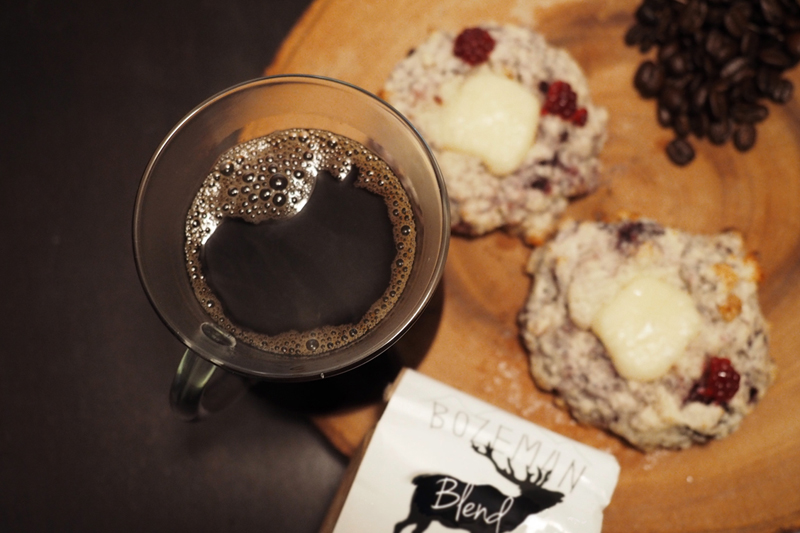 Creating a custom blend is not a new thing for Starbucks, but recently, since the launch of my Bainbridge Blend, more and more custom blends are popping up. Using social media, I have become a resource for partners all over the country in creating their own blend. I love connecting with partners over coffee, but it is even more special when it is over a blend they have created. The Bozeman team reached out to me, and I was so excited to finally taste this blend. Bozeman blend was created by store partner Sonja, who was inspired by tasting another city blend (Breckenridge Blend). She  created this blend as part of her coffee master certification, and it is now sold in half pound bags, brewed on the clover as well as shots of espresso!
Introducing the Bozeman Blend; balancing a sturdy backbone with bright acidity and complex citrus and cocoa notes.
Bozeman Montana is known for it's rugged beauty, rich personality and outdoor adventures. This bright and smooth blend aims to recreate the experience. Sonja used three single origin coffeess to create this blend; Guatemala Antigua, Sumatra and Kenya. I was so inspired when I tasted this coffee, that I wanted to pair it with something that gave a nod to each of the three regions. Walnuts to enhance the nuttiness of the Guatemala, blackberries to really bring out the Kenya, and a huge chunk of melted brie to balance it all out.

Blackberry & brie scone
Ingredients
2 cups all-purpose flour
⅓ cup sugar
1 tablespoon baking powder
½ teaspoon salt
½ cup cold unsalted butter, cut into small pieces
½ cup coarsely chopped walnuts
i cup blackberries cut in half
¾ cup + 2 tbsp buttermilk (plus extra for brushing tops)
130g brie cheese, rind removed and cut into ½ inch cubes
Instructions
Put brie in the freezer for 10 minutes
Pre-heat oven to 450 F.
In a large bowl, combine flour, sugar, baking powder, and salt.
Cut the butter into the flour mixture, and mix with a pastry tool until butter is small and crumbly.
Gently fold in the blackberries and walnuts.
Add the ¾ cup + 2 tbsp buttermilk and mix until just combined
Pat dough into 2 or 3-inch rounds and arrange on prepared baking sheets. Brush tops with a little extra buttermilk.
Bake for 10 minutes.
While scones are baking, remove brie from freezer, cut rinds off, and cut into ½ inch pieces.
Remove scones from oven and form a depression in the tops using the back of a wooden spoon. Press a few squares of brie into each depression.
Return to oven and bake for 2-3 more minutes until brie is melted, and scones are lightly golden.
Allow to cool a few minutes on baking sheet until transferring to a wire rack to cool completely.