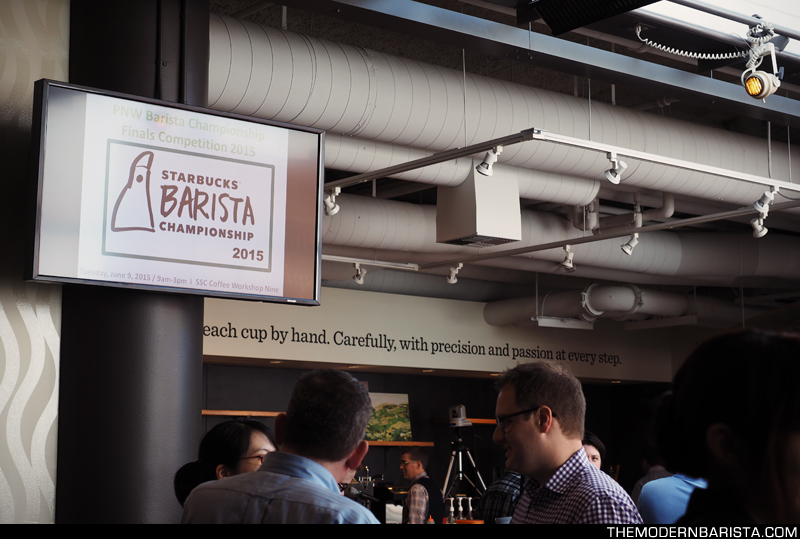 Today the first barista champion of the Pacific Northwest (and the entire US!) will be decided! I posted previously about competing for my area. Sadly, I didn't make it through to the final round, but I'll be honest.. coming and watching all of these incredible partners compete was amazing. (and far less stressful!) I knew a lot of partners competing in this final round, so I had so much fun connecting with them, and cheering them on!
But first, this costume is everything.
The Championships are split in to two rounds; Barista Craft and a coffee tasting. They were going on simultaneously, so it was hard for me to watch both. I mostly hung out in the tasting room, as that is where my passion lies. First up was Daylen! I actually don't know Daylen, but I know partners in her district. They were gracious enough to invite me along with her.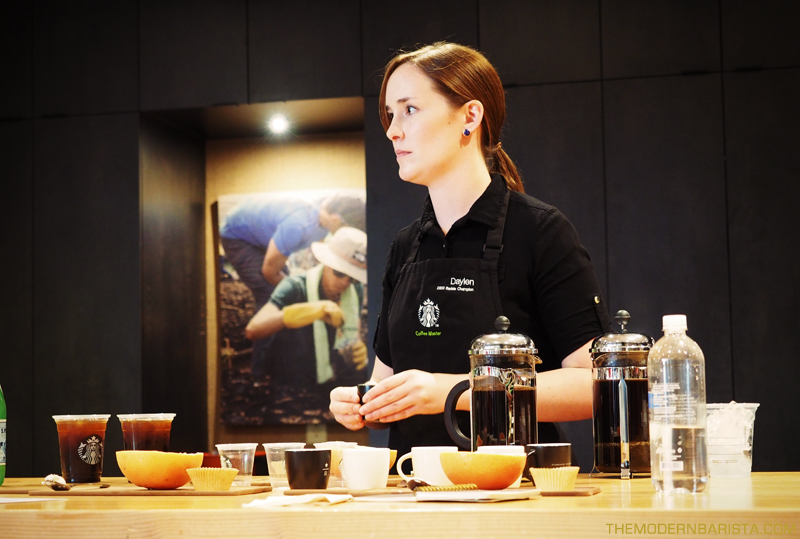 Everyone had to prepare three coffee tastings, with food, using any brew method. Daylen was the only barista that I saw use the clover, which was in a separate room! We all travelled with her as she prepared the clover, iced Kenya, which she then served in an grapefruit cup.
Next up is Bryce in barista craft. This round consists of latte art and the introduction of a custom beverage. Bryce is in my area (area 12!) and he beat me in regionals, so I was really rooting for him to take the whole thing. Bryce has this calmness about him, when he speaks, it's genuine and from the heart. I loved watching him compete in this round. Even with all the cameras around, he was just relaxed and doing his thing.
I'm not going to lie, when I saw who the judges were for barista craft (honestly, both rounds) I was star struck. I have met these partners before, but they are truly people I respect and admire, so to be able to see all of this unfold was so cool. Both Andrew and Rebekah are on the coffee engagement team, and to me, these are kind of like my barista heroes. Anyways, this picture above is very telling; #1 I was sitting in a horrible spot, so I wasn't able to get as many pictures as I would have liked, #2 there are a ton of people taking pictures!!! and #3 it is very clear that Andrew and Rebekah are having a good time and very much enjoy the drink Bryce created.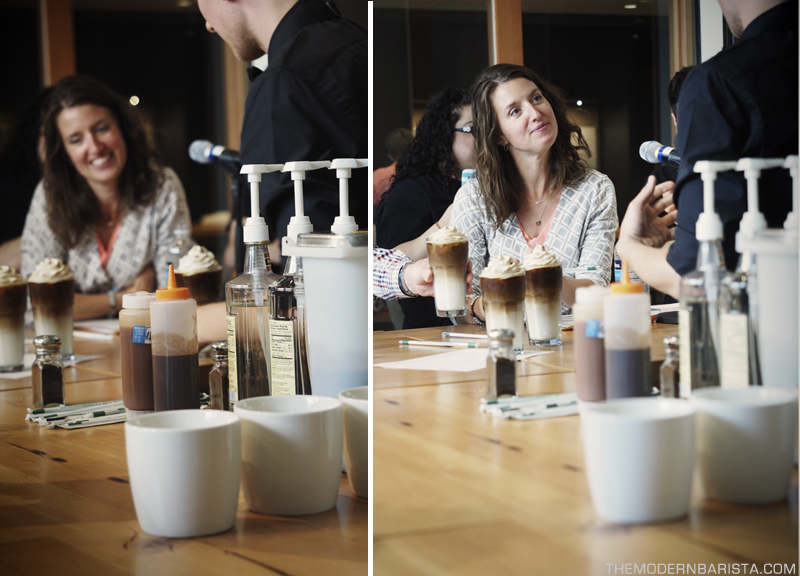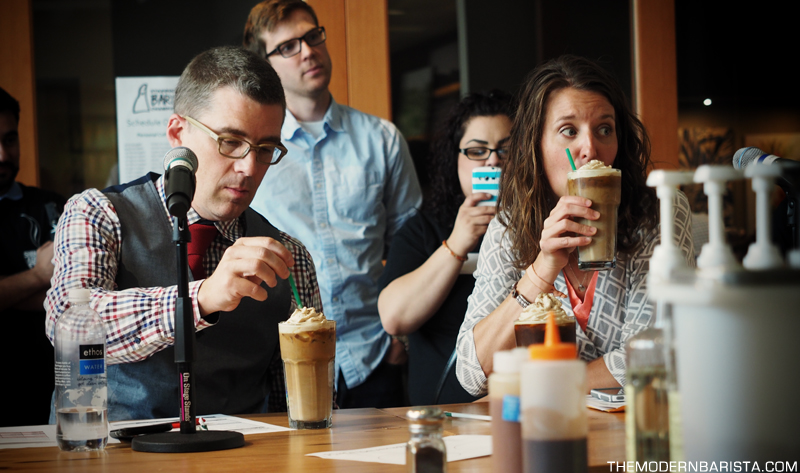 Next up was the coffee tasting portion. Bryce chose three coffees to tell his story; Ethiopia, Italian Roast and Sumatra. Bryce is a foodie, and he put together an amazing coffee tasting for the judges. I wish I was able to get pictures of all of it, but he paired Ethiopia with a cayenne chocolate tart, Italian Roast with creme brûlée (which he brûléed on site, very smart!) and Sumatra with an herbed goat cheese.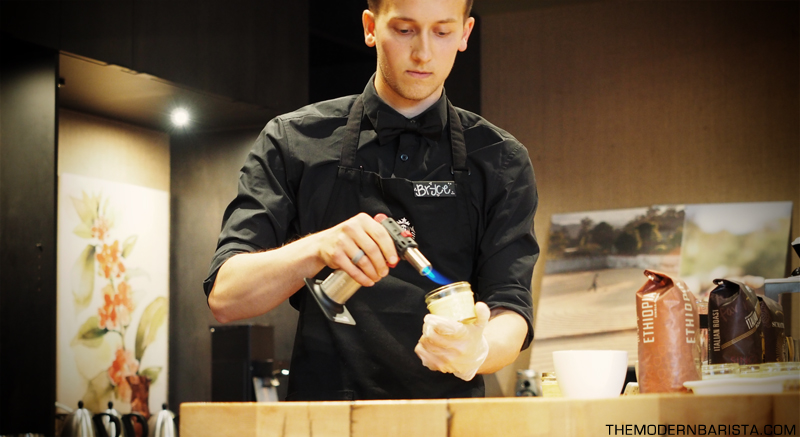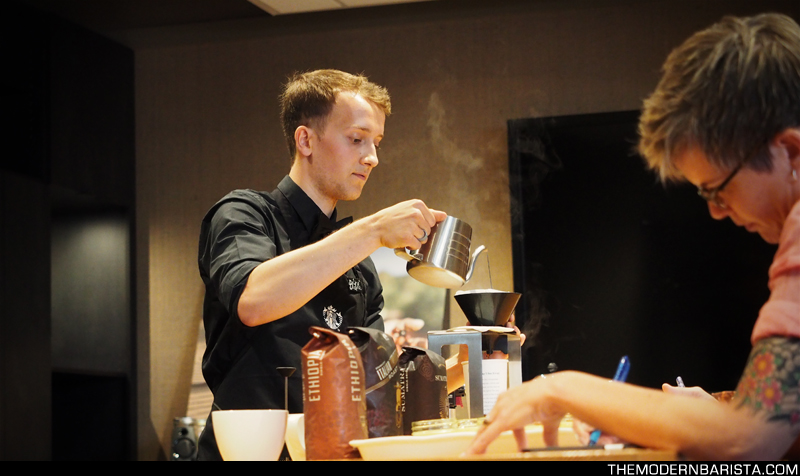 After all of the finalists competed in both rounds, they all gathered together for a group reserve cupping led by Chad Moore.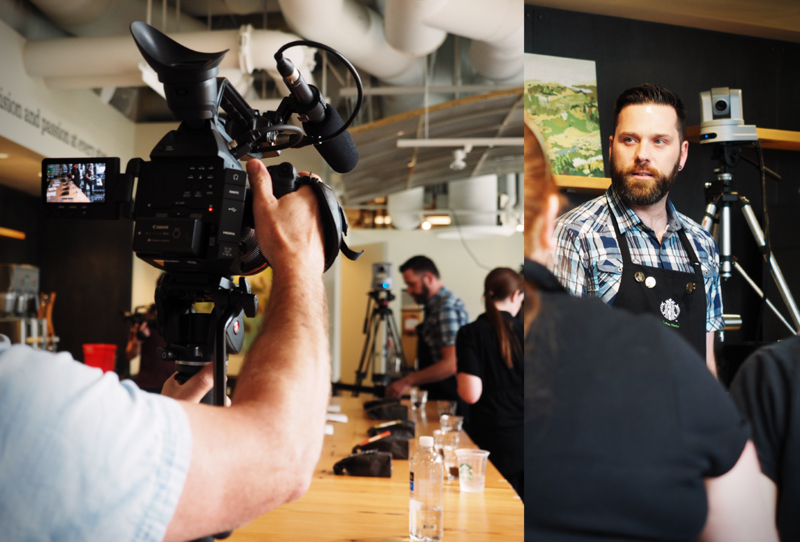 And now we all gather on the 9th floor atrium to find out who is the 2015 Barista Champion for Region 1!!!!
And the winner is…………….. Bryce Conrad!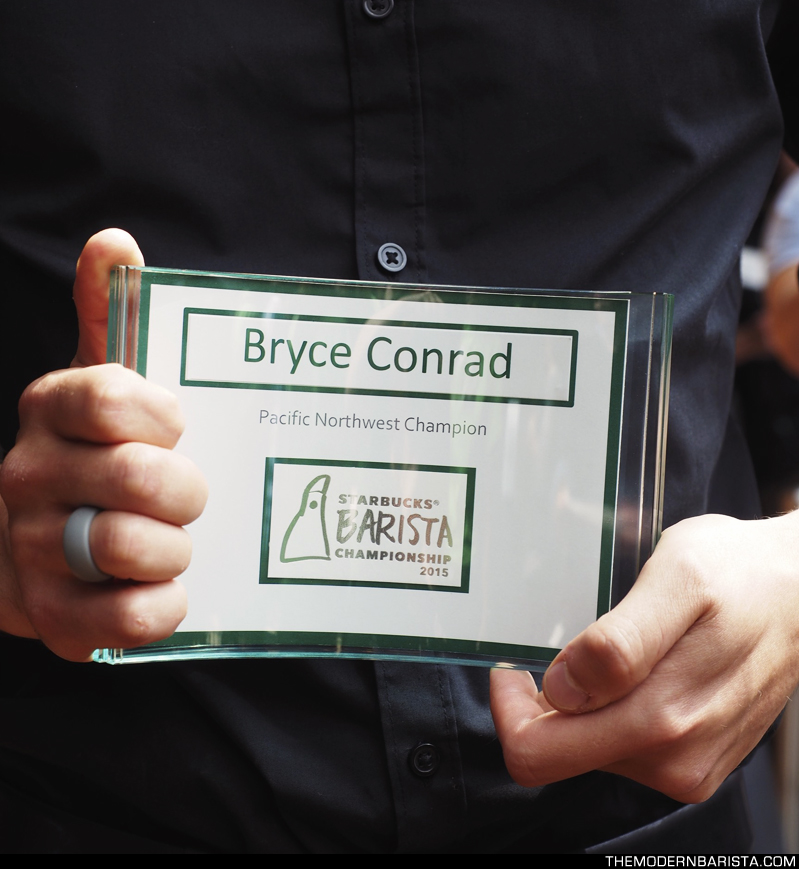 There was absolutely no doubt in my mind, and I couldn't be happier. Congratulations Bryce and all of area 12! Who is ready for the 2016 Barista Championship? 😉