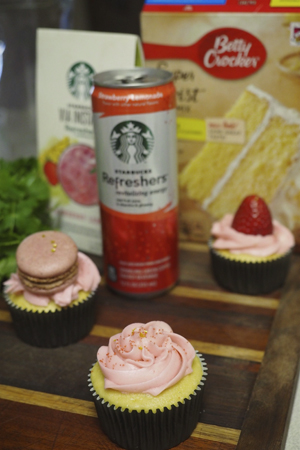 Pinterest keeps suggesting this "soda cake" to me. A boxed vanilla cake with a can of soda, and that's it. I'll be honest, I was curious. No butter, no eggs, how can it possibly taste good?! So I decided I would try it, but I'd use a canned Starbucks refresher instead of soda. I settled on a lemon cake with the strawberry lemonade refresher, but was very close to using a vanilla cake mix with the blueberry acai. Next time…. 
I decided to do the strawberry lemonade because I wanted to top it with my strawberry lemonade buttercream frosting, but you can use store bought frosting if you wanted as well. Making this is so easy, I almost feel that I shouldn't include it here, but sometimes it's nice to have something quick in your back pocket.
All you need is one canned refresher and one box of cake mix. That's it. Pour it in a pan, bake, finished. Probably the easiest cupcakes I have ever assembled. I tasted one, and guess what? Delicious. Super moist and light, tart and sweet. I don't know how this is possible, but I am OK with that. 😉

2 ingredient refresher cake
Ingredients
Starbucks canned Refresher. I used Strawberry Lemonade, but you could use any flavor you wanted
Box cake mix. Any flavor, any brand. Here I used Betty Crocker Lemon flavored cake.
Instructions
Mix the soda and the cake mix together. Follow the baking instructions on the back of the cake mix box. It really doesn't get much easier than this.