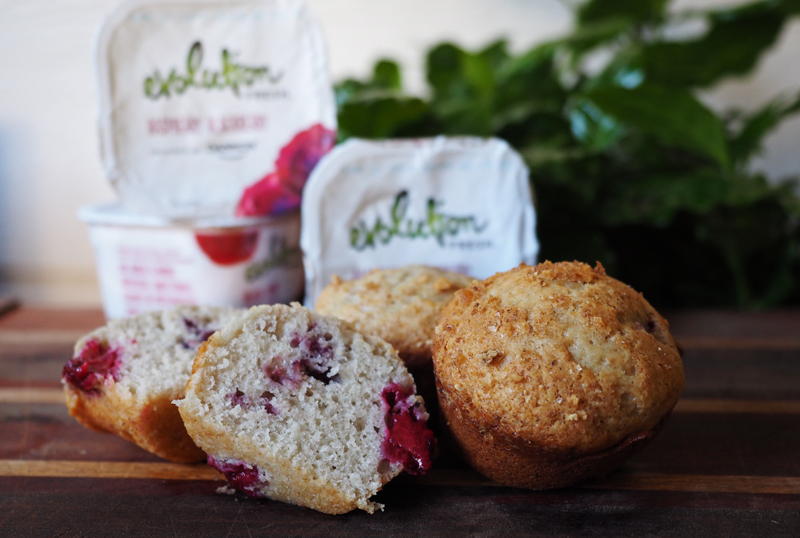 I am obsessed with the new Evolution Fresh yogurts! I love yogurt as a quick snack, and the partnership with Evolution Fresh and Dannon did not disappoint! The greek yogurt has a great smooth texture and is on the tangy side, which I love, and the fruit choices are some of my favorites! Right now I am hooked on the raspberry blackberry flavor, and decided to make these breakfast muffins. They are bursting with fresh fruit, and make the perfect on the go breakfast.
The recipe is very flexible and interchangeable. Don't like raspberries? Use blueberries. I think next time I am going to use the passionfruit yogurt and add mango and pineapple and coconut flakes! Aloha!
Evolution Fresh greek yogurt muffins
Ingredients
3 cups all purpose flour
1 teaspoon baking powder
½ teaspoon baking soda
½ teaspoon salt
1 cup vegetable oil
1½ cups sugar
2 eggs
1 container Evolution Fresh greek yogurt (I used raspberry blackberry)
zest of one lemon
1 tablespoon fresh lemon juice
2 cups fresh or frozen fruit (I used raspberries)
Instructions
Preheat oven to 425 degrees.
Prepare a muffin tin with paper liners.
In a medium bowl, mix together flour, baking powder, baking soda, and salt. Set aside.
In the bowl of an electric mixer, blend sugar, oil, and eggs on medium speed until smooth.
Add Greek yogurt (including the fruit at the bottom), lemon zest, and lemon juice and blend until well combined.
Gradually add flour mixture on low speed, and mix until flour is incorporated.
Gently, fold in the fruit
Scoop the batter into each muffin cup, filling them almost full.
Bake for 3 minutes, and then reduce heat to 350 degrees and bake for an additional 22 minutes, or until they are golden brown on top.
Remove the muffins from the tins and allow to cool.