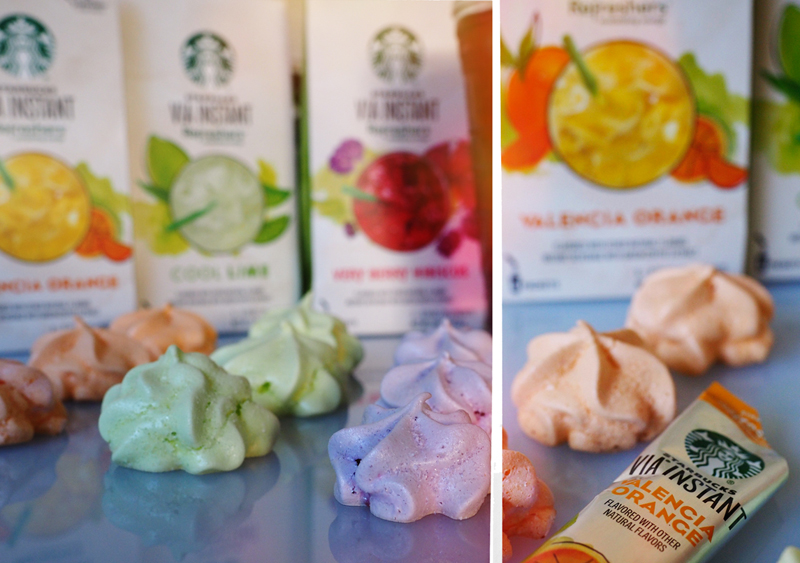 I am kind of obsessed with VIA Refreshers, especially the Valencia Orange flavor. These cookies are so colorful and just scream SUMMER.
VIA Refresher Meringue cookies
Ingredients
4 egg whites
½ tsp of Cream of Tartar
1 cup of sugar
VIA Refreshers in assorted flavors, your choice!
Food coloring (optional)
Instructions
Line a baking sheet with foil and preheat oven to 225. Set aside.
Using a stand mixer, beat the egg whites until they become frothy. Continue to beat the egg whites and gradually add the sugar, followed by the cream of tartar. Continue to beat until the egg whites become stiff.
Depending on how many VIA flavors you are using, evenly divide the egg white mixture into bowls. Add ½ teaspoon of the refresher powder at a time, until the desired taste and color is achieved. You might want to add food coloring to boost the color a little bit. I like the meringues to be tart, so I used quite a bit of VIA in each color batch.
I use an icing gun with a decorator tip to achieve the traditional meringue shape, but you can also use a spoon, and spoon the meringue on to the prepared cookie sheet.
Bake for 45 minutes, or until tops begin to brown.
Let cool and enjoy!