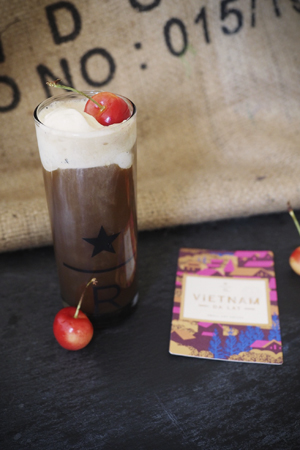 For the fourth of July, I wanted to put my own coffee twist on a classic beverage; the root beer float. Cold brewed Vietnam da Lat with a generous scoop of vanilla bean ice cream, topped with Cola, and garnished with whiskey soaked Rainer cherries. I can sum this up in just two words…
More, please.
Prepare a rapid infusion cold brew of Vietnam da Lat. If you don't have a siphon at home, you can do it the traditional way, it'll just take longer. The drink build is simple, coffee, ice cream, splash of cola and garnished with cherries.
For the cherries, I pitted them and put them in the whip cream siphon with a few tablespoon of whiskey. I charged this, just like I would with the rapid cold brew, wait a few minutes, and you're done! Instant whiskey infused cherries. Alternatively, you can soak cherries in whiskey overnight. I really like using Makers Mark whiskey here to really bring out the woodsy and vanilla notes in the Vietnam da Lat.