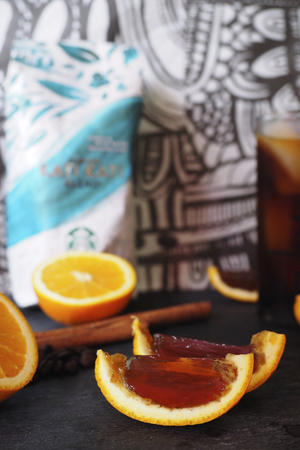 One of my favorite ways to serve kati kati is iced and served in an orange cup. This year, I wanted to change things up a bit. Not only change the presentation of the coffee, and the vessel it is served in, but to change the texture. A whole new experience with Kati Kati!
If you don't have Kati Kati, Kenya, Willow and Ethiopia are all great coffees to transform in this way. Try switching up the citrus, a grapefruit for Kenya or a blood orange with Ethiopia.
Kati Kati jelly with Fiori di Sicilia syrup
Ingredients
3 oranges, cut in half and pulp removed (save the pulp for the syrup!)
Cold brew jelly
1½ cups Kati Kati cold brew concentrate
1 T gelatin
Fiori di Sicilia simple syrup
pulp of two oranges
⅓ c sugar
⅓ c water
1 cinnamon stick
1 vanilla bean
Instructions
To make the syrup, take the pulp of two oranges, sugar, water, cinnamon stick, vanilla bean and combine in a saucepan.
heat and let simmer for about 5-7 minutes. Strain and reserve.
To make the jelly, reserve 3 tablespoons of the cold brew concentrate in a small microwave safe container. Heat in microwave. Dissolve gelatin in hot coffee. Once completeley dissolved, transfer to the rest of the cold brew concentrate.
Stir in the Fiori di Sicilia syrup to taste, about 2 tablespoons. Alternatively, you can use any type of simple syrup or granulated sugar.
Pour the coffee mixture into the orange halfs you prepared earlier. Place on a sheet pan, cover with plastic wrap and place in refrigerator to set, about 4 hours.
Once the jelly is set, slice the orange halves into wedges.