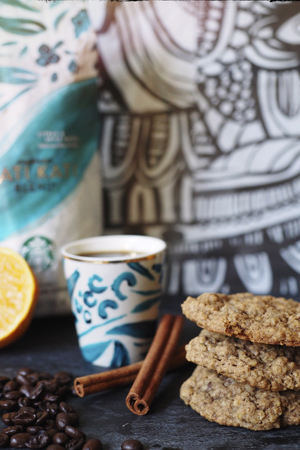 Kati Kati has become one of my favorite seasonal offerings at Starbucks. It is great hot or iced, and has so many great pairing options. you can go citrus, you can go spicy, even smokey! I love oatmeal cookies (who doesn't?!) and i want to highlight the warm spice notes along with the citrus.
I made these for a coffee tasting at my old store. We paired it with the Kati Kati (hot) brewed in the pour over method. These cookies have just a hint of orange, and is enough to make it pop, but the warm spices really steal the show. The slight addition of ginger brings the right amount of heat.

Kati Kati with oatmeal, orange chocolate chip cookies
Ingredients
1 large egg
½ cup unsalted butter (1 stick)
½ cup dark brown sugar, packed
¼ cup granulated sugar
zest from one orange
1 tablespoon vanilla extract
1½ cups old-fashioned whole rolled oats
¾ cup all-purpose flour
1 teaspoons cinnamon
1 teaspoons pumpkin pie spice
¾ teaspoon ground nutmeg
¼ teaspoons ground ginger
½ teaspoon baking soda
⅛ teaspoon salt
1 cup chocolate chips
Instructions
In a large bowl (or stand mixer) add the egg, butter, sugars, vanilla, and beat on medium-high to cream ingredients until light and fluffy, about 5 minutes.
scape down the sides of the bowl and add the oats, flour, cinnamon, nutmeg, baking soda, orange zest, spices and salt. Beat to just incorporate, about 1 minute. Add the chocolate chips and mix until just combined.
I find that my 2T coffee scoop works best here. Scoop the dough and form dough mounds Place dough on a cookie sheet.. Flatten mounds slightly. Cover plate with plastic wrap and refrigerate for at least 3 hours before baking.
Preheat oven to 350F, line 2 baking sheets with parchment paper. Place mounds on baking sheets, spaced about 2 inches apart. Bake for 9 to 10 minutes, or until edges are set and tops are barely set. Do not overbake, the cookies will firm up as they cool.
Let the cookies cool on the tray for 5 minutes, and then transfer to a wire rack.