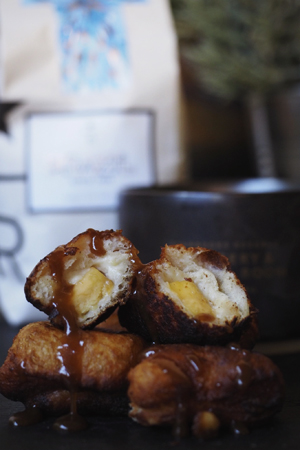 My husband and I were out and about, and there was a food truck giving out free samples of beignets. If you've never had a beignet, it is basically a fritter. Delicious fried dough topped with powdered sugar. Beignets are synonymous with creole cooking, and when they were first introduced in New Orleans by the French colonists, bananas and plantains were a popular variation. The beignet sample I was given was terrible.. it was so greasy and just tasted stale. It made me sad, but it also made me want to make beignets and do a coffee tasting! Then the Brazil Santa Ines came out, and what a perfect coffee at the perfect time. With notes of plantain and milk chocolate, this coffee is made for beignets that are stuffed with plantains and then topped with a hazelnut praline sauce 🙂
I wanted to make these beignets quick and easy, something that almost anyone in the kitchen could recreate. Instead of making beignet dough, I used store bought biscuit dough. Super easy, and very easy to clean up after!

plantain stuffed biscuit beignets
Ingredients
one plantaian, sliced (if you can't find plantains, use a banana!)
one tube of "flaky" style biscuit dough
1 cup butter flavored shortning for frying
powdered sugar for dusting
Instructions
If you have a deep fryer, get it ready and set at 325. If you do not have a deep fryer, use a heavy skillet, and using a thermometer, keep the melted shortening at 325.
Open the tube of dough, and separate the biscuits. You will then cut each biscuit into fourths.
Place a half slice of a plantain on the biscuit, and wrap the dough around it. It will look exactly like a petite vanilla bean scone!
Once your beignets are all prepped, it's time to start frying. These cook FAST. You want the beignets to be a nice golden brown. Remove from the oil and generously dust with powdered sugar and then top with the hazelnut praline sauce (recipe to follow)
Hazelnut praline sauce
Ingredients
8 tablespoons butter
1 cup dark brown sugar, packed
¼ cup chopped hazelnuts
3 tablespoons milk
½ teaspoons vanilla
Instructions
Melt butter over medium heat. Add the brown sugar and whisk until it melts and mixture begins to boil, about 5 minutes. Stir in milk, vanilla, and hazelnuts until smooth. Set aside.