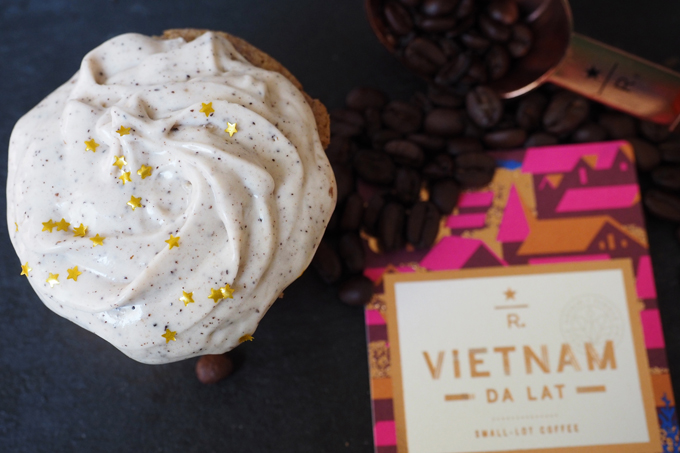 My first store in Washington was in Silverdale. A cute little cafe in a shopping center. I transferred to Bainbridge in 2014, but have still kept in touch with the partners there. This week that store closed and has now reopened down the street as a drive thru, reserve store and an evening store! How cool! I am so happy to finally have an evening store close to home! On Tuesday they had their friends & family event, and I thought I would bring them cupcakes. Since they are a reserve store now, I wanted to tie in one of our current offerings. So the Vietnamese coffee cupcakes were born!


Traditionally, Vietnamese coffee is made with sweetened condensed milk, so I wanted to mimic that in a cupcake. A coffee laced cupcake with a sweetened condensed milk filling, topped with coffee infused frosting and edible gold stars. These were a beast to make, but so worth it.
If you don't have Vietnam da Lat, I recommend using Starbucks Espresso roast, or any other dark roast coffee. These cupcakes were so good… so good that my little kitten Cosmo stole one off the counter and started eating it. My cats have good taste 🙂
Vietnam da lat coffee cupcakes
Taking vietnamese coffee and turning in into a cupcake. If you don't have Vietnam da Lat, try using espresso roast!
Ingredients
for the batter:
1 cup unsalted butter, room temperature
2 cups granulated sugar
4 large eggs, room temperature
2¾ cups all-purpose flour
1½ teaspoons baking powder
⅛ teaspoon salt
¾ cup brewed coffee (I used Vietnam Da Lat)
¼ cup heavy cream
2 tablespoons Vietnam da Lat ground very fine (turkish setting)
for the filling:
1 teaspoon unflavored (Knox) gelatin
¼ cup cold water
¾ cup sweetened condensed milk
for the frosting:
1 8 oz. package cream cheese, softened
¾ cup heavy cream
1 tablespoon Vietnam da Lat ground very fine (turkish setting)
3 tablespoons sweetened condensed milk
1 ½ pounds confectioners sugar
Instructions
preheat oven to 350
Beat butter on high until soft, about 30 seconds. Add sugar and beat on medium-high until light and fluffy, about 3 minutes. Add eggs one at a time, beat for 30 seconds between each.
Whisk together flour, baking powder, and salt in a bowl. Put coffee and cream into a measuring cup together.
Add a quarter of the flour to the butter/sugar mixture and beat to combine. Then add one-third cup of liquid mixture beat until combined. Repeat the process two more times and end with last addition of the flour mixture. Fold in ground coffee.
Fill cupcake liners two-thirds full and bake 25 minutes. Let cool completely
After your cupcakes have cooled, make the filling.
Sprinkle the gelatin over the water and let sit for 5 minutes. In a small pan over medium heat, heat the sweetened condensed milk until warm. Prepare ice bath by putting ice cubes and water into a bowl that will accommodate the pan. Add the gelatin to the heated milk and stir over heat until the gelatin melts, about 2 minutes. Transfer mixture to water bath set. Stir constantly until the mixture thickens. Once mixture has cooled put into pastry bag with medium round tip. (Alternately a Ziploc bag with corner cut or even baby spoon will work to fill cupcakes.)
Using a large pastry tip, core out the center of each cupcake. Carefully pull out any crumbs and remove the cake round from the tip using a toothpick. Fill each whole three-quarters full with filling and replace cake round on top.
Beat the cream cheese in a bowl until light and fluffy. Gradually beat in the heavy cream, coffee, and sweetened condensed milk. Slowly mix in the confectioners' sugar. If you like a thicker frosting that will stand up to fancy piping tips, you might want to add more sugar.
I topped my cupcakes with edible gold stars, but you could top them with chocolate covered espresso beans, or nothing at all!
Nutrition Information
Serving size:
1 Theme
Calories:
0