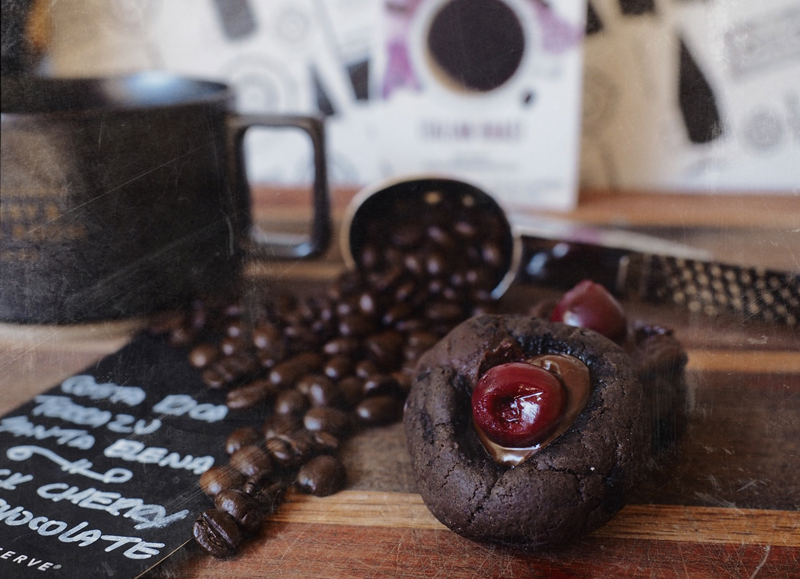 Sometimes the Roastery will offer very small lots of coffee, that are only available for a short time (days). I heard rumors of a sun-dried Costa Rican coffee was coming to the scoop bar, and I got off work, hopped on a ferry, and went to investigate! As luck would have it, the Costa Rica Tarrazú Santa Elena was there with a sign that said black cherry & dark chocolate. Perfect. I loaded up with as many bags as I could carry back to the ferry. My ferry ride home was a very aromatic one, rich bittersweet chocolate, saturated sweetness and ripe fruit aromas. I knew instantly what I wanted to make; A black forest cake!
This coffee was in very limited supply, only 152 pounds! It came and left the roastery in less than a week's time, but I was so thankful I was able to get a few bags. The story of how this coffee got to the roastery is very serendipitous. Craig Russell was on a plane back to Seattle, and he found himself sitting next to a coffee farmer, Luz Marina Trujillo. Trujillo was not a stranger to Russell, as a long time supplier of high quality Costa Rican coffee to Starbucks, and a friend he had met over 20 years ago. Trujillo talked about her recent harvest, and how she set aside a small amount to experiment in a natural processing method (not common in Costa Rica). After arriving in Seattle, Craig asked the coffee team to track down a sample of the coffee. They loved it, and were able to purchase the last remaining bag. The master roasters then perfected a roast to showcase this coffees flavor.
This is a medium bodied coffee with a medium acidity, flavor notes of black cherry and chocolate, and pairs well with chocolate, berries and lemon.
I do coffee tastings at different stores, so making a cake and transporting it from store to store is not always the best options. So I decided to make a Black Forest inspired cookie, using Starbucks VIA Italian Roast. A soft chocolate thumbprint cookie, with morello cherries and a VIA infused chocolate ganache.

black forest thumbprint cookies
Ingredients
For the cookies..


¼ cup unsalted butter, room temperature
1 cup sugar
1 large egg, room temperature
2 tablespoons sour cream, room temperature
1 teaspoon pure vanilla extract
1½ cups all-purpose flour
½ cup unsweetened cocoa powder
¼ teaspoon baking powder
¼ teaspoon baking soda
¼ teaspoon kosher salt
1 10-oz jar morello cherries


For the frosting


6 ounces chopped semi-sweet chocolate
½ cup sweetened condensed milk
1 stick of Starbucks VIA Italian Roast
¼ teaspoon vanilla extract
Instructions
In a large mixing bowl, cream together butter and sugar on medium speed until fluffy. Add sour cream, egg, and vanilla extract. Beat until well combined.
In a separate bowl, stir together flour, cocoa powder, baking powder, baking soda and kosher salt. With mixer on low speed, gradually add dry ingredients into creamed mixture, blending until combined. Chill dough in refrigerator for 30 minutes.
Place rack in center of oven and preheat oven to 350° F. Drain cherries, reserving the juice and lightly pat cherries dry. Once dough has chilled, shape dough into 1-inch balls and place 2 inches apart on an ungreased cookie sheet. With thumb, carefully press down center of each dough ball to create a small "well."
Make frosting and bake cookies: In small saucepan over low heat, combine chocolate pieces and sweetened condensed milk, stirring constantly until the chocolate nearly melts. Remove from heat, then stir in 4 teaspoons of reserved cherry juice, VIA and vanilla until mixture smooth and glossy. Spoon one teaspoon of frosting into the "well" you created. Press a cherry on top, and top with more frosting if desired. Bake for 8 minutes, let cool on the baking sheet for 2 minutes, then transfer cookies to a wire rack to cool completely.