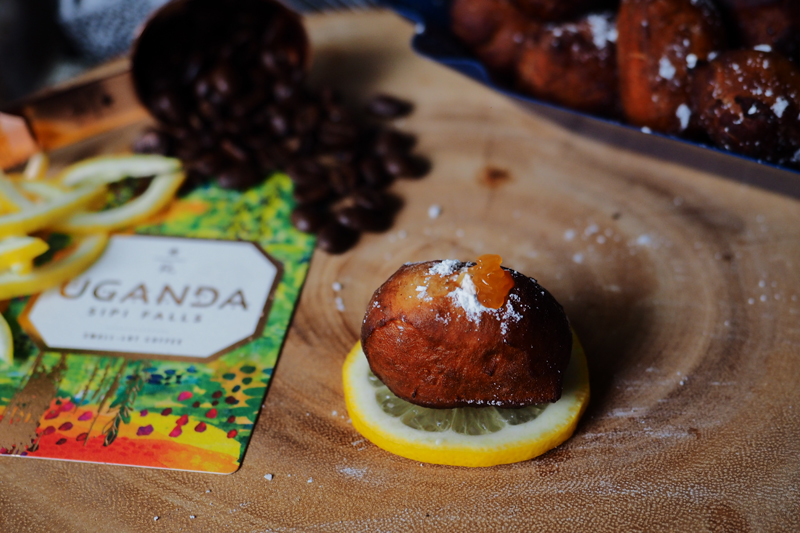 One of the reasons I love working in specialty coffee is it allows me to continue my exploration of food. It's traditions and cultures, and experience things I might not come across in my every day life. Coffee and it's origin, allows me to dive into a specific culture, to create a food pairing to not only honor the coffee I am enjoying, but the many hands that helped this coffee  from bean to cup. During this food and coffee journey, I have found myself most drawn to Africa. The coffees tend to be wild, exotic and unexpected, and the food, while simple at first glance, is incredible. I have been hooked on the Uganda Sipi Falls for a few months now. I love it as cold brew, it's sweet and creamy finish is almost habit forming. I challenged myself to take the traditional "coffee & donuts" idea to Uganda. Meet the mandazi.
You're probably thinking, what the heck is a mandazi? A mandazi is essentially an Ugandan donut. They are sweetened with coconut flakes and cardamom, and are much less sweet than the donuts I am used to eating.
I started researching traditional Ugandan food, and came across this recipe for "soft, mini mandazi". I liked this recipe because it uses yeast, but mostly because her photographs make them look like beautiful little pillows. Light & fluffy are my kind of donuts. I only made minor adjustments to her recipe, adding grains of paradise instead of cinnamon to give it more of a savory, peppery flavor. I then candied some lemon peels and make a quick salted caramel dipping sauce.
The original concept was to have multiple dipping sauces for different coffees; salted caramel and lemon with the Sipi Falls, chocolate blackberry for the tanzania, but I'll save this idea for later 😉

salted caramel sauce
Ingredients
1 cup sugar
6 Tablespoons unsalted butter, cut into 6 pieces
½ cup heavy cream
1 teaspoon salt
Instructions
Heat granulated sugar in a medium saucepan over medium heat, stirring constantly with a wooden spoon. The sugar will form clumps and eventually melt into a thick brown, amber-colored liquid as you continue to stir.
Once the sugar is completely melted, immediately add the butter.
Stir the butter into the caramel until completely melted, about 2-3 minutes.
slowly, drizzle in ½ cup of heavy cream while stirring.
Allow the mixture to boil for 1 minute.
Remove from heat and stir in 1 teaspoon of salt.
Allow to cool down before using.
Cover the caramel tightly and store for up to 2 weeks in the refrigerator.
Soft mini mandazi
Ingredients
½ cup warm water
2 teaspoon active dry yeast
Evaporated milk(5 oz. can) or ¾ cup canned coconut milk
1 large egg
½ cup sugar
1 teaspoon salt
3½ – 4 cups all purpose flour
¼ cup grated coconut or coconut flakes
1 teaspoon crushed cardamom spice
1 teaspoon grated nutmeg or cinnamon
powdered sugar or cinnamon sugar to sprinkle
Vegetable oil for deep frying
Instructions
In a large bowl add the warm water, evaporated milk, salt, sugar and yeast. Set aside for 5 minutes. Add egg mix.
Then add 3 ½ cups flour, cardamom, nutmeg, grated coconut and continue mixing by hands or in a stand mixer .
Turn dough on a lightly floured surface, knead dough until all the ingredients have been fully incorporated and the dough is not too sticky, when touched, gradually add the remaining flour if you need to, err on the side of less flour than more flour. Mix dough until smooth about 1 -2 minutes.
Place dough in a greased bowl, turning once to coat. Cover Loosely with a clean cloth and let rise in a warm, draft-free place for 1 to 2 hours or until doubled.
Roll out dough in to 1 inch thick. Cut in bite size
In a large, sauce pan pour vegetable oil, until it is at least 3 inches (or about 5 centimeters) high (too little will result in flatter mandazi and place on medium heat until oil is 350 degrees.
Fry until golden brown about 3-5 minutes depending on size. Remove with a slotted spoon and drain on paper napkin. serve warm