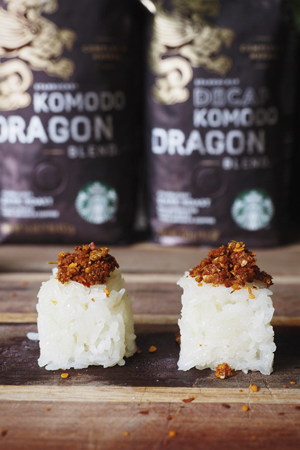 I was shopping at Ross the other day, and I saw a shelf full of coffee, so of course I went to investigate. Previous Ross adventures had led me to bags of decaf Casi Cielo, so I am always on the lookout. This trip did not disappoint; half pound bags of DECAF Komodo Dragon! Starbucks used to carry decaf Komodo several years ago. It was our only Swiss Water processed coffee. Curious, I decided to pick up a bag.
I had already been researching Indonesian recipes for an upcoming coffee pairing, but I came across ketan serundeng, which is sticky rice with a spicy coconut topping. I instantly knew I had to make this and pair it with Komodo Dragon.
Before I dive into the recipe, let's talk about this decaf Komodo Dragon. This coffee is available in other markets in both decaf and regular, but I am not sure where this came from, and because it was at Ross, it is nearing it's expiration date.. So keeping that in mind…
When I opened the bags of coffee, there was a huge difference in smell. The Komodo I got as my markout smelled rich and herbal. The decaf version had the same smell, but far less intense. Visually, the beans look the same. I prepared both coffees as a pour over. Again, visually, they look the same, but the aroma just wasn't there in the decaf version. Tasting the coffee, the decaf had a lighter body, tasted almost the same, but I suppose it wasn't as satisfying to my senses as the regular Komodo was.

Ketan (steamed glutinous rice)
Ingredients
2 cups glutinous rice/sweet rice, soaked for 1 hour, drained
½ tsp salt
½ cup coconut milk
Instructions
Steam rice until half-cooked. Remove from steamer. Set aside.
Mix coconut milk and salt, stir well, bring to a boil. Remove from heat.
Add coconut milk to the half-cooked rice. Stir until absorbed.
Put the rice back on the steamer. Steam for 30 minutes.
Serundeng
Ingredients
1 cup dried grated coconut
1 tbsp sugar
5 shallot
3 cloves garlic
1 tbsp dried shrimp
1 tsp dark brown sugar
2 red chillies
⅛ tsp salt
1 tbsp vegetable oil for sauteing
Instructions
Grind the shallot, garlic, shrimp, sugar, chilies, and salt.
Saute in a pan until fragrant
Add grated coconut and sprinkle with sugar.
Mix well and remove from heat.
Form the sticky rice into balls (I used a square rice mold) Top with serundeng