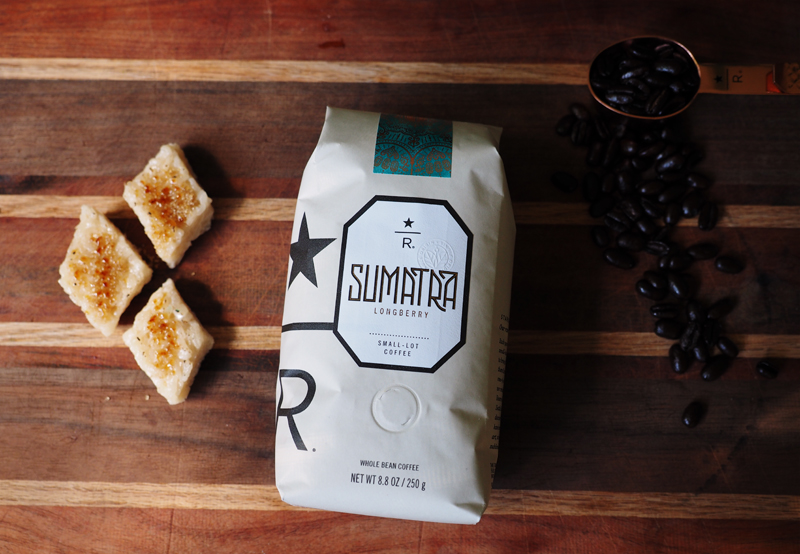 Sumatra is my favorite core coffee, and I love how rich and smooth it is, the flavors of earth and herbs in a cup. It is something I look forward to every single day. When I heard a Sumatra was coming to the roastery, I was very excited. I knew nothing about it, but I just assumed it would be along the same vein as core or even aged Sumatra. I was so wrong. I took my first slurp and was blown away at how sweet this coffee was, with layers of milk chocolate and toffee. Completely different, but completely amazing. This quickly became one of my favorite offerings on the clover and I wanted to create something as surprising as this coffee.
The term 'longberry' is actually the varietal of this coffee. By looking at the beans side by side, you can see how longberry got its name. These beans remind me of a large grain of rice, long and slender. This longberry comes from the Wahana estate, which started experimenting with this varietal a few years ago with great success. Sumatra longberry is a fully washed coffee with floral and citrus notes, complimented by silky milk chocolate.
While researching Indonesian food for my Komodo Dragon tasting, I came across wajik.. which literally translates to diamond, a sticky rice cake. The recipe called for pandan leaves and durian, flavors which would not work, but what if i left them out and added some caramelized sugar on top? The original plan was to dip them in milk chocolate, but I fell in love with the simplicity of the flavors, so decided to leave the chocolate out. The result is a bite size sticky rice cake with a syrupy sweetness that matches with Sumatra Longberry perfectly. Although next time I will dip them in chocolate 😉

Sumatra Longberry with wajik brown sticky rice cake
Ingredients
1000 gr white glutinous rice
250 gr palm sugar
750 ml coconut milk
salt to taste
Raw sugar to garnish
Instructions
Soak the glutinous rice overnight and steam until it is half cooked. remove, set aside and let cool.
Cook the palm sugar, coconut milk and salt together, stir from time to time and bring it to a boil. reduce the mixture into ⅔.
Add the glutinous rice into the syrup and stir until the rice has cooked and the syrup has all been absorbed. let cool for a while, until slightly warm.
Line a baking sheet with parchment. Pour the glutinous rice mixture and spread evenly to a thickness of approximately ¾".
Let cool and cut into diamond shapes.
If desired, garnish the top with sugar in the raw, and using a kitchen torch, brulee the tops until slightly brown.