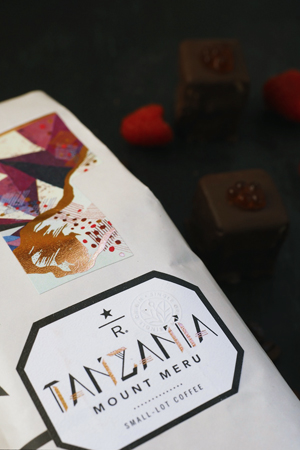 Tanzania Mount Meru was the first coffee from the Starbucks Reserve subscription, that wasn't previously available at the roastery. Just from reading the coffee fact sheet, I knew I had to have this coffee. Sun-dried, with ripe berry notes that highlight grape jam and orange marmalade with a dark chocolate finish. Oh yes.
One thing I love about the subscription is that the coffee is announced a month out, so that gives me plenty of time to brainstorm pairing ideas. The other is being so close to the roastery, I get to see the action, See the coffee unloaded and roasted, the smells, sometimes the roaster will slip me a freshly roasted bean to try. It is a total attack on all of my senses, and this is when the very best tastings come together.
Tanzania Mount Meru was roasted on September 13th, and arrived at my door on September 15th. As luck would have it, I had an event for National Coffee Day, so not only did I have an occasion for this special coffee, but I also had about 30 people to present to. So I really wanted to make something that would make an impact. Originally I had planned on making a red wine dark chocolate cake, but then I got the crazy idea to make petite fours. It's just a cake cut into cute little shapes, it can't be that hard, right?
Wrong.
I can't say that I have ever cried over a cake, but now I can say that I have. Petite fours broke me.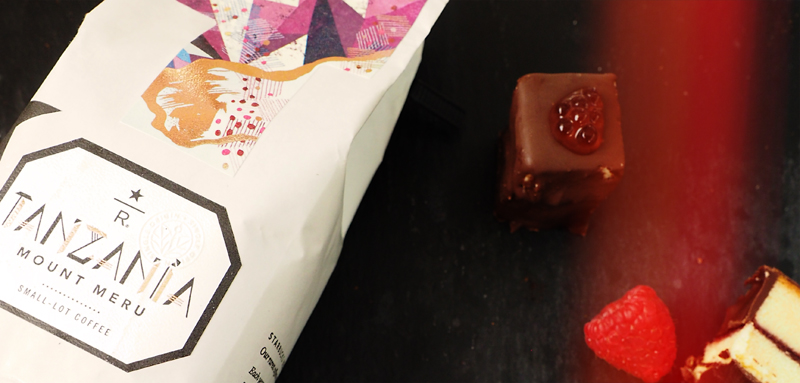 Tanzania Mount Meru comes from the famed Burka Estate and spans the base of the extinct volcano Mount Meru. Traditionally coffees from this estate are fully washed but this is a natural process coffee. This is only the second year that they have harvested and processed some of their coffee in this way. In picking, they selected the ripest red cherries from specific coffee blocks on the plantation and from there they presort, removing any under or over ripe fruit. The cherries are then stored in sisal bags for a period of 24-36 hours to start the pre-fermentation process. From here the cherries go outside to the drying tables where they lay for 3 days in the sun before being raked and rotated for 35 days in the sun to complete the drying process. The coffee is then gathered and stored for an additional 2 weeks before moving to the dry mill for the last stage of processing. All of this detail and attention to this special process helps develop a very unique flavor profile in the coffee. Just as Burka means "abundance," Mt. Meru has an abundance of complex flavors.
As usual, I was also very much inspired by the artwork on the label. The rough textures represent the fertile slopes the coffee grows on. I wanted to create something with height, a taller petite four, and topped with the coffee cherries, or in this instance, fruit "caviar".
Something I love to incorporate into my coffee tastings is molecular gastronomy. My favorite is using spherification to create "caviar" out of just about any liquid imaginable. It is not hard to do, and requires only a few special things. I will include the recipe below, but you can always go the easy route and buy your own "flavor pearls" on amazon. There are many different flavors to choose from, but my favorites are black currant, maple syrup, balsamic vinegar & caramel. Not only do these compliment coffee tastings, but they are also amazing in cocktails.
If you are interested in making your own flavor caviar, I suggest starting out with a kit. It comes with the basics, a dvd, and everything is in preportioned packs. I started off using the molecuar-r kit. I was easily able to make caviars for the first time, and after that I was hooked.

Blackberry caviar
Instructions
Mix alginate with blackberry juice.
Dissolve calcium chloride in water.
Using an eyedropper or needless syringe, drop droplets of blackberry juice solution into calcium chloride water.
After a few minutes (1-2) use strainer to remove droplets from calcium chloride bath into a separate cold water bath.
Here's a video by ScienceFix that demonstrates the process.
Now on to making the petite fours… My intentions were to make chocolate cake, dipped in chocolate and the adorned with the caviar. I did that, but I was very  unhappy with the cakes. They were dry. They were oddly shaped and oversized, and they just weren't what I had wanted to present. I highly recommend investing in petite four cutters. It might seem unnecessary, but trust me…
For the cakes, you will need to make a simple butter pound cake recipe. Or  you can buy a pre-made one at the store. Up to you. I have done it both ways, and I will be completely honest and tell you that I prefer using frozen pound cake instead. It is so much easier to slice, and can be done on the fly.
To make the petite fours you will simply cut the cake into shapes, then cut the shapes in half  and fill with blackberry jam, and reassemble. Traditionally, petite fours are dipped into a fondant, but I did not have time to do that. But I did have a ton of melting chocolate on hand. Spoon the melted chocolate over the cake, and let gravity do the rest.