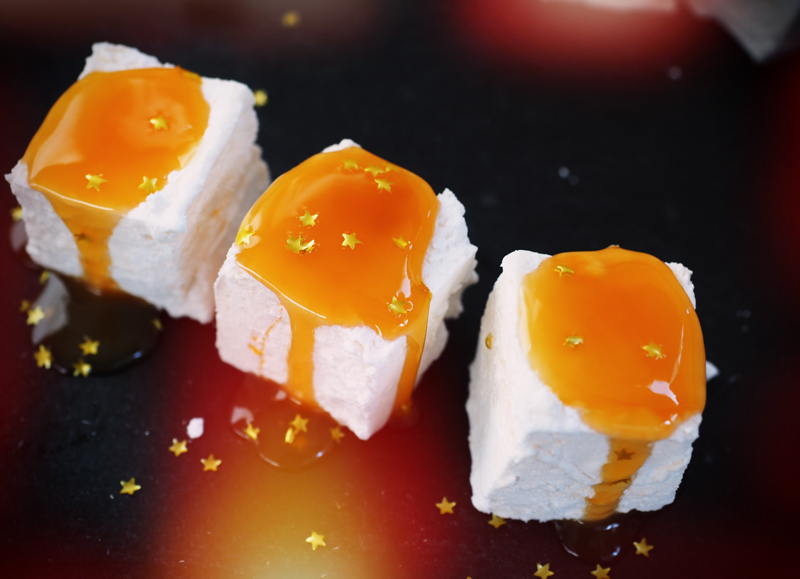 Making marshmallows holds a special place in my heart. In fact, marshmallows were the first thing I actually made from scratch. I have always been a foodie, but I never entered the kitchen. One day I was watching Good Eats, and there was Alton Brown making marshmallows. I had no idea you could make marshmallows, and suddenly I had to make them too.
Making marshmallows always brings me back to that moment, and I love looking back and taking in that bit of nostalgia. I am very glad I watched that episode of Good Eats, because without it, who knows if I ever would have taught myself to cook.
Now, let's talk about this coffee! Bali vintage klasik was only available at the Starbucks Roastery for a short period of time, and more recently, it was offered in flavor lock packaging for the monthly subscription. Let me talk for a moment about the subscription. I work on Bainbridge Island, which is a quick ferry ride to downtown Seattle and the roastery, so a subscription seems silly since I'm so close.  I decided to sign up for a subscription to get the Tanzania Mount Meru (which wasn't on the scoop bar). I couldn't believe it. The coffee was roasted on a Sunday afternoon, and FedEx dropped it on my doorstep on Tuesday. I didn't have to take a ferry, and it came in a flavor locked package, in a beautiful black box, with a special card. All for $19 (shipping included)! You can read more about the subscription service here.
This is a medium bodied coffee with notes of sweet lemon, caramel & trail mix. I fell in love with this coffee because it is so smooth, and has virtually no acidity. It makes an incredible cold brew, with delicate floral notes that you don't normally find in coffees from this region. What makes this coffee so different is how it's processed. This is a fully washed and dry hulled coffee. Most farmers have moved to less labor intensive processing methods to become more efficient. Only three villages in Indonesia have returned to this "vintage" style processing method resulting in herbal low notes and an unexpected floral sweetness.

Lemon marshmallows
Ingredients
3 packages unflavored gelatin
1 cup ice cold water, divided
1½ cups sugar
1 cup light corn syrup
¼ teaspoon salt
2 teaspoons lemon extract
zest from 1 lemon
¼ cup confectioners' sugar
¼ cup cornstarch
Nonstick spray
Instructions
Place the gelatin into the bowl of a stand mixer along with ½ cup of the water. Have the whisk attachment standing by.
In a small saucepan combine the remaining ½ cup water, granulated sugar, corn syrup and salt. Place over medium high heat, cover and allow to cook for 3 to 4 minutes. Uncover, clip a candy thermometer onto the side of the pan and continue to cook until the mixture reaches 240 degrees F, approximately 7 to 8 minutes. Once the mixture reaches this temperature, immediately remove from the heat.
Turn the mixer on low speed and, while running, slowly pour the sugar syrup down the side of the bowl into the gelatin mixture. Once you have added all of the syrup, increase the speed to high. Continue to whip until the mixture becomes very thick and is lukewarm, approximately 12 to 15 minutes. Add the lemon extract and zest during the last minute of whipping. While the mixture is whipping prepare the pans as follows.
Combine the confectioners' sugar and cornstarch in a small bowl. Lightly spray a 13 by 9-inch metal baking pan with nonstick cooking spray. Add the sugar and cornstarch mixture and move around to completely coat the bottom and sides of the pan. Return the remaining mixture to the bowl for later use.
When ready, pour the mixture into the prepared pan, using a lightly oiled spatula for spreading evenly into the pan. Dust the top with enough of the remaining sugar and cornstarch mixture to lightly cover. Reserve the rest for later. Allow the marshmallows to sit uncovered for at least 4 hours and up to overnight.
Turn the marshmallows out onto a cutting board and cut into 1-inch squares using a pizza wheel dusted with the confectioners' sugar mixture. Once cut, lightly dust all sides of each marshmallow with the remaining mixture, using additional if necessary. Store in an airtight container for up to 3 weeks.