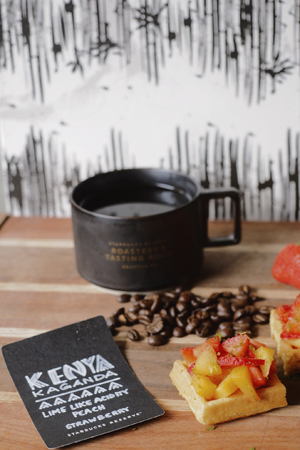 I try really hard not to duplicate pairings, but every so often a coffee will come around, and I'll be reminded of a coffee of the past. Kenya Kaganda has a vibrant lime acidity, that reminded me of a reserve coffee from last year, Malawi Sable Farms.
Kaganda's Farmer's Cooperative Society has 1,300 members who deliver the cherry to the wet mill the same day the cherry is picked. There the coffee is sorted and pulped, using water from the Kihuti river. Once fermantation is complete, the coffee is sun-dried and delivered to the mill for secondary processing. This coffee is  fully washed and sun dried, giving this cup a lime acidity, with flavor notes of peach and strawberry.
The Sable Farms was on the more savory side, and the Kenya Kaganda is very sweet. I was instantly reminded of two things; peach rings and Teavana peach tranquility. I knew I could take inspiration from what I learned from Sable Farms, and use it with Kenya Kaganda.
Ugali is a staple all across Africa and has different local names. In Kenya it is called Ugali. In Malawi, it is called nsima, but the dish is the same. Maize flour mixed with water to create a paste.
Ugali is typically eaten with two side dishes, one protein and one vegetables. With my Malawi tasting, I made a kambuchari (tomato and onion salad). That wouldn't work with the Kaganda, so I took the same idea, and replaced it with complimentary flavors. Chopped strawberries and peaches, with a squeeze of lime juice, lime zest and a splash of balsamic vinegar. Since Ugali is traditionally eaten with your hands, I cut the waffles in bite sized pieces.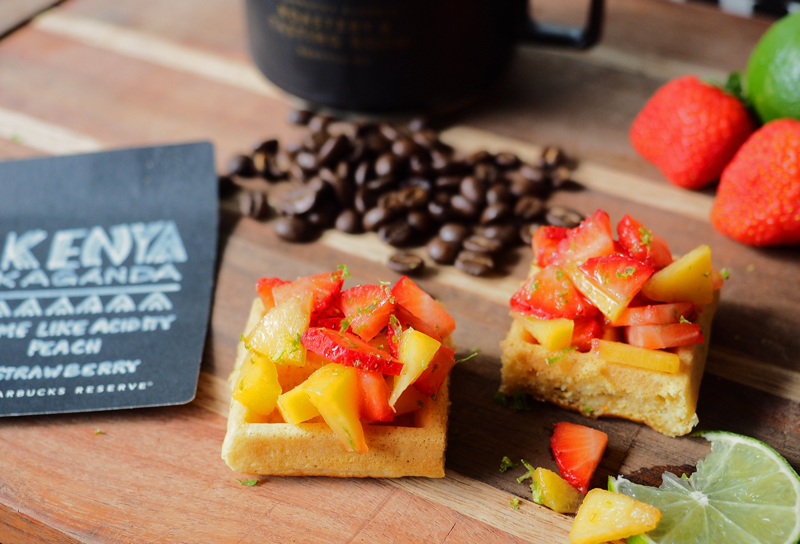 Kenya Kaganda with a sweet & spicy ugali
Ingredients
1¾ cups buttermilk
2 eggs
5 tablespoons butter, melted and cooled
1½ cups flour
1 cup yellow cornmeal
2 tablespoons sugar
2 teaspoons baking powder
1 teaspoon baking soda
1 teaspoon salt
1 teaspoon ground ginger
1 teaspoon cinnamon
½ teaspoon nutmeg
Instructions
In a medium-sized mixing bowl, whisk together the buttermilk, eggs and melted butter.
In a separate bowl, blend together the dry ingredients, then quickly and gently combine the wet and dry ingredients.
Let the batter sit for 10 minutes, to allow the cornmeal to soften.
Drop the batter by ⅓-cupfuls onto a hot waffle iron, and bake until the waffle iron stops steaming.