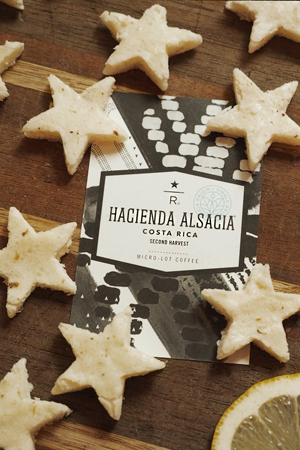 Christmas came early this year. The roastery had a very limited amount of the second crop of Hacienda Alsacia on the scoop bar. This went insanely fast, and I was lucky to grab several bags for me and my fellow partners. This is one of my favorite coffees to do tastings with. Not because of it's sparkling acidity and bright floral and meyer lemon sweetness (which I adore) but because of the story behind it.
Hacienda Alsacia is the first farm Starbucks has owned and operated in it's history. This coffee is grown by partners in Costa Rica. From partners for partners.
I will never forget the first time I got to try Hacienda Alsacia. I  opened the bag, and immediately I was overwhelmed with a familiar scent; stargazer lilies. In northern California there is a large lily farm where I would go to buy flowers. Walking up and down the aisles of flowers, completely engulfed in this sweet, floral air. It was magical. That is always where I go back to when I smell this coffee. It makes me a little homesick each and every time. I wanted to do a tasting as a tribute to where I call home.
You can use any type of goat cheese, but hands down, my favorite is from Cypress Grove. Their purple haze chevre has lavender and wild fennel pollen, which adds a mysterious flavor to this cookie, almost bordering on a subtle saffron note. That nod of savory is a perfect balance to the sweetness of the coffee.
The great thing about this cookie is you can really play with flavor combinations. The first time I made it was actually for Christmas blend (2009?) using plain goat cheese, and topping it with sea salt and pink peppercorns.

Hacienda Alsacia with lavender goat cheese cookies
Ingredients
1 cup Cypress Grove 'purple haze' goat cheese, softened
1 cup sugar
1 teaspoon lemon zest
1 cup all-purpose flour
3 egg whites
Sea salt
Instructions
Preheat oven to 350
Line a baking sheet with a silpat or parchment paper. Set aside.
In a bowl, using an electric mixer, beat together the goat cheese, sugar and lemon zest until smooth. Mix in the flour and egg whites with a spatula. Spread the mixture on prepared baking sheet and season with salt. Bake until golden brown, about 10 to 12 minutes.
Top with lemon zest or dried edible flowers if desired.