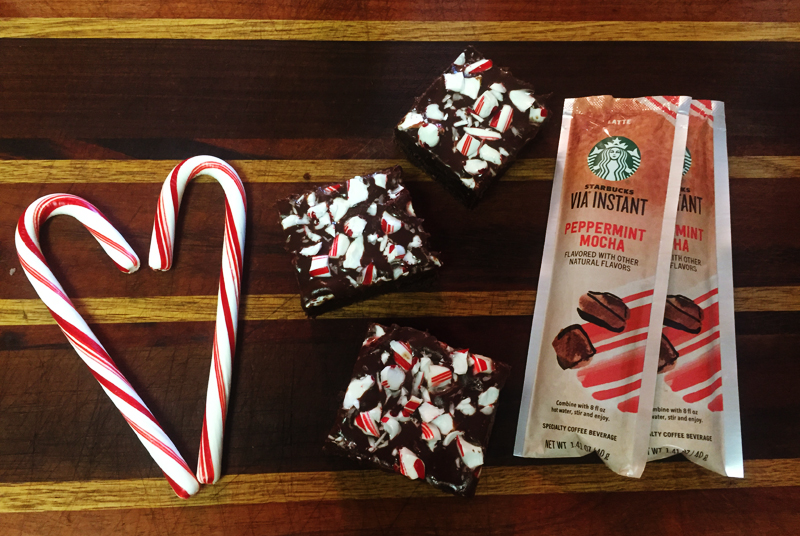 Peppermint mochas have always been my favorite, and out of all the VIA latte flavors, this one is the one I stock up on and always try to keep on hand (although it generally doesn't make it to the new year!). Every year I make cupcakes with these via sticks, but this year I decided to switch it up and make brownies. 
For these brownies, I used a classic fudge brownie recipe and then modified it. If you want more of a peppermint punch, you could also add peppermint extract. The ganache is also quite delicious if you add a stick of Christmas blend VIA to the heavy cream!

VIA Peppermint Mocha Brownies
Ingredients
7 oz. dark chocolate, coarsely chopped
½ cup unsalted butter
¾ cup sugar
¼ cup light brown sugar
2 sticks VIA latte peppermint mocha
2 eggs
1 teaspoon vanilla extract
½ teaspoon salt
1 tablespoon dark cocoa powder
⅔ cup all-purpose flour
Dark chocolate ganache
4 oz. dark chocolate
¼ cup heavy cream
4-5 candy canes, crushed.
Instructions
Preheat oven to 350ºF.
Line with parchment and lightly grease an 8x8" baking pan.
In a medium bowl, whisk the flour, salt, and cocoa powder together.
Put the chocolate and butter in a large glass bowl and microwave for 30 seconds. Stir, and repeat until the chocolate and butter are completely melted and smooth. Add the sugars and VIA sticks. Whisk until completely combined. The mixture should be room temperature.
Add 2 eggs and vanilla extract to the chocolate mixture and whisk until combined. Do not overbeat the batter.
Sprinkle the flour mixture over the chocolate mixture. Using a rubber spatula, fold the flour mixture into the chocolate until just a bit of the flour mixture is visible.
Spread the batter in the prepared pan.
Bake in preheated oven for about 35 minutes or until a toothpick comes out with moist crumbs attached.
Let brownies cool completely, and then make the chocolate ganache.

Heat the heavy cream for 30 seconds until the microwave until bubbling. Add the dark chocolate and let sit for 1 minute before stirring until smooth. Spread evenly over the cooled brownies and sprinkle with crushed candy canes.
Place in the refrigerator for at least 1 hour or until the ganache is set before cutting.