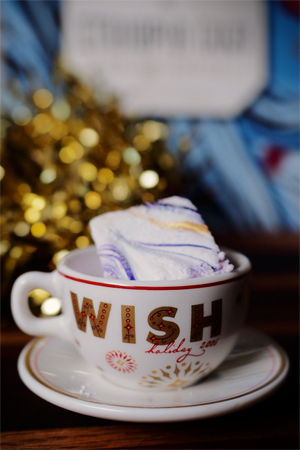 When I first saw Ethiopia Guji Bilida Bukisa at the Roastery, I fell in love. Aromas of fresh cut lavender, meyer lemon acidity and a sweetness reminiscent of black currants. These flavor notes are so distinctive, some might shy away from this coffee, but they are delicate and aromatic, flavors unfolding as the coffee continues to cool.
I have been on a real marshmallow kick lately, and I have really wanted to make a lavender one. Somewhere along the line, I decided to try and stuff these marshmallows with black currant jam, creating new textures and flavor combinations that really make this coffee. sing. Plus they look stunning 🙂
Ethiopia Guji Bilida Bukisa is a light bodied coffee with a medium acidity.  This is a fully washed coffee. Bilida Bukisa is a washing station owned by Mr. Alemayehu Tufiri. Coming from a coffee farming family, he saved his money in order to fulfill his dream of someday owning his own washing station. Hundreds of coffee farmers around the Bilida Bukisa washing station deliver their hand-picked coffee cherry here. Tufiri focuses on best practices, which allows Bilida Bukisa to produce high quality coffee. He gets a premium for his top quality coffee, which he shares with the farmers who bring their finest cherries, helping maintain the cycle of abundance.
This is the kind of coffee that I love to play with food pairings with. There are so many directions you could take. Lemon, currant, even baking spices! When the Starbucks Reserve line launched in 2010-11(?), there was one coffee that I fell in love with. Guatemala de flor. It was the first time I had ever had a coffee with these lavender notes. Ever since the release of that coffee, I find myself gravitating towards other coffees with similar qualities. Hacienda Alsacia and now Ethiopia Guji Bilida Bukisa.
I'll be honest. When I had the idea to do this, I had no idea how I was going to do it, and if it would even turn out. I didn't try and google it to see if this was a "thing", I just went for it. As you can see from the picture above, a perfect stuffed marshmallow, without having to make multiple batches or cut them. I worked with the marshmallow batter right as it was done mixing, forcing hot jam into the center. If you have a collapsable pan with a grid, it makes it even easier to drop the jam in the center of each grid. Actually, using that pan makes my marshmallow making life so much easier.

Ethiopia Guji Bilida Bukisa with black currant & lavender marshmallows
Ingredients
3 packages unflavored gelatin
1 tablespoon dried lavender buds
1 cup ice cold water, divided
1½ cups sugar
1 cup light corn syrup
¼ teaspoon salt
½ teaspoon pure vanilla extract
½ cup black currant jam
¼ cup confectioners' sugar
¼ cup cornstarch
Nonstick spray
purple & gold food coloring (optional)
Instructions
Using a perfect tea maker or tea strainer, steep the dried lavender in hot water (just off the boil) fro 5 minutes. Strain and allow to chill in the refrigerator (I quick chill in the freezer)
Place the gelatin into the bowl of a stand mixer along with lavender water. Have the whisk attachment standing by.
In a small saucepan combine the remaining ½ cup water, granulated sugar, corn syrup and salt. Place over medium high heat, cover and allow to cook for 3 to 4 minutes. Uncover, clip a candy thermometer onto the side of the pan and continue to cook until the mixture reaches 240 degrees F, approximately 7 to 8 minutes. Once the mixture reaches this temperature, immediately remove from the heat.
Turn the mixer on low speed and, while running, slowly pour the sugar syrup down the side of the bowl into the gelatin mixture. Once you have added all of the syrup, increase the speed to high. Continue to whip until the mixture becomes very thick and is lukewarm, approximately 12 to 15 minutes. Add the vanilla extract during the last minute of whipping. While the mixture is whipping prepare the pans as follows. If you would like your marshmallows to have a light purple hue, add a few drops of purple food coloring.
While the marshmallows are mixing, take the black currant jam and heat on the stove top. Add a few tablespoons of water (or lavender water if you have extra) and stir until smooth. You want to have the consistency of a gel. Pour jam into a squeeze bottle and set aside..
Combine the confectioners' sugar and cornstarch in a small bowl. Lightly spray a 13 by 9-inch metal baking pan with nonstick cooking spray. Add the sugar and cornstarch mixture and move around to completely coat the bottom and sides of the pan. Return the remaining mixture to the bowl for later use.
When ready, pour the mixture into the prepared pan, using a lightly oiled spatula for spreading evenly into the pan.
Take the jam, and draw lines on top, about an inch apart, covering the whole pan. Take a knife, and push the the jam lines in the opposite direction. The idea is to push the hot jam into the center of the marshmallow.
Repeat these same steps with food coloring to get the purple streaks if desired.
Dust the top with enough of the remaining sugar and cornstarch mixture to lightly cover. Reserve the rest for later. Allow the marshmallows to sit uncovered for at least 4 hours and up to overnight.
Turn the marshmallows out onto a cutting board and cut into 1-inch squares using a pizza wheel dusted with the confectioners' sugar mixture. Once cut, lightly dust all sides of each marshmallow with the remaining mixture, using additional if necessary. Store in an airtight container for up to 3 weeks.