In the early 19th century, muffins were baked in small cups or rammekins. This is how the term cupcake came to life! This food fact is the reason why I almost always bake my muffins/cupcakes directly in ceramic cups. Not only is it less waste, it is also adorable. It also gives me a chance to use my new mini mug from the Roastery 🙂
I have been receiving so many requests for recipes to pair with the new Reserve Christmas Blend! Today I decided I wanted to use a chocolate orange flavor profile. It is a classic Christmas flavor, and the addition of clove and all-spice, really make the Aged Sumatra in the Reserve Christmas pop!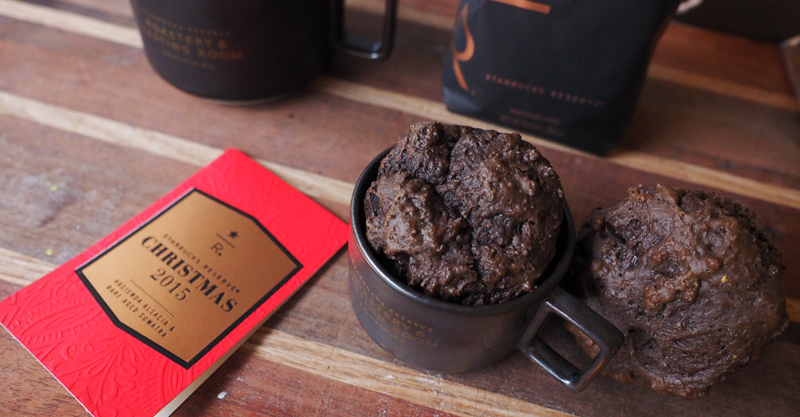 These muffins are rich and dense. They aren't over the top sweet so they are good for breakfast, or for dinner. I like to dunk mine in a cup of the Reserve Christmas blend – try it, it is so good!

Chocolate muffins with orange and clove
Ingredients
2 cups flour
1 tablespoon baking powder
½ teaspoon baking soda
2 tablespoons unsweetened cocoa powder
¼ cup packed dark brown sugar
¼ teaspoon ground all spice
¼ teaspoon ground cloves
¼ cup dark chocolate, coarsely chopped
zest from 1 orange
1 egg
1 cup whole milk
Instructions
Preheat oven at 400. Prepare muffin tin with liners. Set aside.
Place the flour, baking powder, baking soda, cocoa powder, brown sugar, allspice and clove in a bowl. Whisk until combined.
Add dark chocolate chunks and orange zest. Stir to combine.
In a separate bowl, beat the egg and the milk together until well blended (do not overmix).
Fold the egg-milk mixture into the dry ingredients.
Spoon the batter into muffin cups and bake for 15-16 minutes. The top of the muffins should feel slightly firm.
If you try this recipe, please let me know what you think!