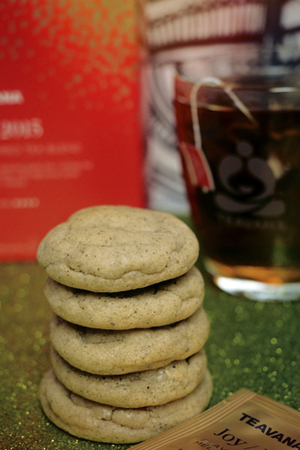 To celebrate the first year of Teavana Joy, I decided to celebrate by making snickerdoodle inspired Joy tea cookies.
Joy tea is a blend of black tea, jasmine green tea and oolong tea. What I love most about this blend is the delicate apricot-peach flavor. It reminded me of a peach cobbler (which I now have to make, thank you) and I wanted to bring that to a cookie. These cookies are extremely addictive and are enjoyed even more with a big mug of Teavana Joy tea.
Joy is only available once a year, so you better grab some quick!
Not only is this the first year Teavana has sold Joy (previous years was Tazo) but this is also the first time that a Teavana tea is for sale in sachets. The response I have seen for this is overwhelmingly positive, and I hope Teavana will consider selling more of their tea blends in sachets!
These cookies are really easy to make, and would also work with other flavors of Teavana tea. It makes me want to have a parTEA, and make cookies for each of the flavors of tea – can you imagine how delicious these cookies would be using Teavana Oprah chai, or pineapple kona pop?! If you try this, let me know what you think!
Joy tea sugar cookies
Ingredients
2¾ cups all-purpose flour
1 teaspoon baking soda
½ teaspoon baking powder
½ teaspoon salt
1¾ cups white sugar
1 tablespoon brown sugar
1 cup unsalted butter, room temperature
3 tea bags of Teavana Joy tea
1 egg
½ teaspoon vanilla extract
Instructions
Preheat oven to 350 degrees. Line a baking sheet with parchment paper; set aside.
In a large bowl, sift together flour, baking soda, baking powder and salt. Set aside.
Using a spice grinder, grind the contents of three Joy tea bags. Grind until powdery fine.
In the bowl of a stand mixer fitted with the paddle attachment or in a large bowl with an electric mixer, beat the butter, Joy tea and both sugars until light and fluffy.
Beat in egg and vanilla extract, combine until fully incorporated.
Slowly blend in dry ingredients mixing until just combined.
Using a small scoop roll dough into balls. Place dough balls on prepared baking sheet about 1½ inches apart.
Bake in preheated oven for 8 to 10 minutes.
Let stand on baking sheet two minutes before removing to cool on wire racks.