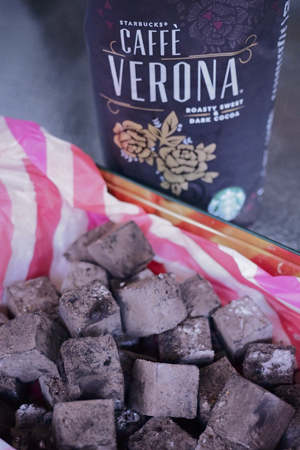 It's February, and that means it's time for everything romance and Caffè Verona! Caffè Verona was one of the first core coffees I fell in love with. I love how rich and roasty sweet it is, and when you pair it with dark chocolate, it is out of this world amazing.
While we were in Hawaii, I rediscovered my love for mochi, and I knew I wanted to do a coffee tasting with it when we got back home.
The story of Caffè Verona begins in 1975, where it was created for a specific chocolate dessert for Jake's restaurant in Seattle. This coffee, then known as Jake's blend, was so popular that Starbucks started hand scooping and blending it to order in stores under the name 80/20 blend. The blend was comprised of 80% Yukon and 20% Italian roast, hence the name 80/20 blend! The blend became so popular, that Starbucks made the blend official, giving it the name Caffè Verona, after the city that inspires so many. This is a coffee that customers and partners have loved for years, and it is sometimes referred as "the coffee of romance". With it's full body, low acidity and cocoa texture, what's not to love?
What is mochi? Mochi is a sweet snack, popular during Chinese new year, and traditionally served with hot tea. It is slightly sweet and is slightly gummy but soft at the same time. Sometimes you see it wrapped around a ball of ice cream, or you'll see it in shapes like these. The most popular flavors seem to be fruit flavors, but I have seen coffee and chocolate flavors, but not together. And mocha mochi was born…

mocha mochi
Ingredients
½ cup butter, melted and cooled
1lb of mochiko (sweet rice flour)
2¼ cup sugar
¼ cup unsweetened cocoa powder
1 tsp baking powder
2 cups brewed coffee, I brewed Verona in a Sowden soft brew
1 cup half and half
4 eggs, beaten
1 tsp pure vanilla extract
Instructions
Preheat oven to 350, and prepare a 13"x9" baking pan with non stick spray. Melt butter and allow to cool.
Brew coffee with your desired brewing method. I suggest the softbrewor a french press to capture the full flavor of the coffee.
Combine mochiko, sugar, cocoa powder and baking powder.
In a separate bowl, beat the eggs, and then add the cooled butter, brewed coffee and vanilla extract.
Combine with the mochiko mixture and stir well, until fully combined.
Pour into prepared pan and bake for 1 hour. Let cool fully.
Cut mochi into desired shapes and dust with cocoa powder or powdered sugar if desired.
Mochiko is a sweet rice (glutinous) flour, and can be found at most Asian grocery stores. If you can't find it, there is always amazon! To brew the Verona, I used the Sowden Softbrew, which is my new favorite way to brew coffee! This is a full immersion method, similar to a french press, but the filter is much finer, and removable allowing for a cleaner cup and immediate removal of the grounds for a smoother cup. I also love how easy it is to clean up and how cool it looks on my kitchen counter. 🙂
Have you tried the Sowden Softbrew yet? I would love to hear your thoughts!