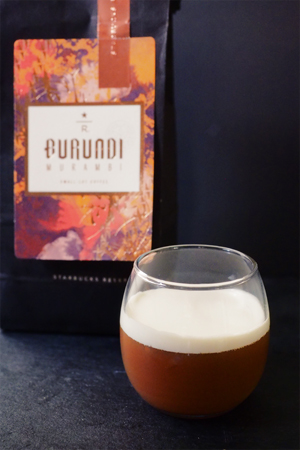 A few weeks ago Burundi Murambi appeared on the scoop bar at the roastery. We have not seen an offering from Burundi in a very long time (about 3 years) so I was ecstatic to go over there and pick up a few bags.
I believe this coffee will be launching in all Starbucks Reserve stores in March or April, so it is not a roastery exclusive. One of the perks of being so close to the roastery is to be able to try all the reserves months before they hit the stores!
Burundi Murambi is a complex blend of lemon, black tea and cinnamon spice notes. This coffee goes through a double fermentation, where beans undergo both wet and dry fermentation stages. This process, unique to Burundi and Kenya, extends the processing time to produce limited batches. You can taste all of the hard work and love in this cup, unfolding layers of lemon and cinnamon. 
I really wanted to play with this black tea note, so I decided to create a black tea jelly using Teavana's Royal English Breakfast tea. I topped it with a cinnamon infused cream, which is sweet with soft spice.

Black tea jelly
Ingredients
1 cup + 2 tablespoons of water
2 tea bags of black tea (i used Teavana Royal English Breakfast)
1½ teaspoon unflavored gelatin
2 teaspoons sugar
Instructions
Bloom the gelatin with 2 tablespoons of cold water. heat 1 cup of water and add the tea. steep for 5 minutes. add the sugar to the tea, stirring until dissolved completely.
combine the tea and the gelatin, making sure to stir until the gelatin is dissolved. pour the mixture into four small cups, leaving a few inches from the top. let cool in refrigerator until set (30 minutes-2 hours)
Top with cinnamon cream. (recipe below)
Cinnamon cream
Ingredients
3 tablespoons sweetened condensed milk
3 tablespoons half & half
cinnamon stick
Instructions
Combine both milks in squeeze bottle. using a microplane, fresh grate the cinnamon into the cream. break the cinnamon stick in half and add to the bottle to further infuse the milk. chill in refrigerator with jelly. when ready to serve, simply top the jelly with a ½" of cream, or more if desired.
Notes
I prepare this in a squeeze bottle, but you can use any type of vessel you'd like.