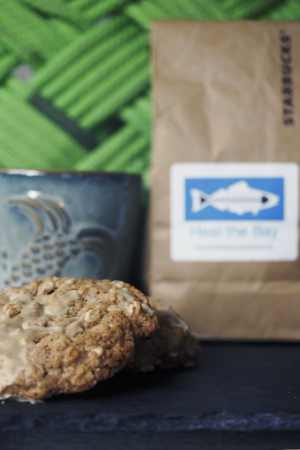 I caught wind of a limited time custom blend offering in California, and I was lucky enough to have my friend Alia snag a bag and send it to me.
Heal the bay and Starbucks have joined in a year long partnership, to help promote clean local beaches and watersheds. This partnership spans 92 stores (!!) from Thousand Oaks to El Segundo. The Heal the Bay blend is being offered through February, so if you are in Southern California, check to see if your store carries it. Each bag is $5, and all proceeds go directly to Heal the Bay!
If you are not able to grab a bag, I'll post the recipe for this blend so you can try this pairing and share with your partners!
The Heal the Bay blend consists of 3/4 Yukon and 1/4 Komodo Dragon. I love pairing Yukon with oatmeal, and I love pairing Komodo Dragon with a little spice and heat. I decided to make spicy oatmeal cookies. Originally, I wanted to add cilantro and peanuts, but I decided to keep it simple and just stick with ginger, cayenne and top it off with a decadent brown butter-cardamom glaze. These cookies are addicting, and pair perfectly with the coffee. The subtle spice notes from the Komodo are mimicked with the cayenne in the cookie.
Ginger- Cayenne Oatmeal cookies
Ingredients
1 ½ cups sifted flour
2 teaspoons cinnamon
2 teaspoons allspice
1 teaspoons cayenne
1 ½ teaspoons ginger
½ teaspoon sea salt
½ teaspoon finely ground black pepper
½ teaspoon baking soda
8 ounces unsalted butter
1 teaspoon vanilla extract
1 cup granulated sugar
1 cup dark brown sugar, firmly packed
2 eggs
3 cups quick-cooking rolled oats
Instructions
Sift flour with spices, salt and baking soda. Set aside.
In large bowl, cream butter. Add vanilla extract sugar and brown sugar, and beat well. Add eggs and beat to mix.
On low speed, beat in sifted dry ingredients.
Stir in oats with spoon.
Line two cookie sheets with aluminum foil, shiny side down. Measure out ¼ cup of batter for each cookie and place 5 to 6 cookies on each sheet.
Bake at 375 degrees for 12 to 14 minutes. Allow cookies to cool and then top with glaze. (recipe to follow)
cardamom brown butter glaze
Ingredients
¼ cup unsalted butter
½ to ¾ cup powdered sugar
½ teaspoon vanilla extract
1 teaspoons cardamom, ground
1½ tablespoons milk
Instructions
Heat a small saucepan over medium-low heat and add butter. Whisk constantly until melted, then continue to whisk as bubbles form, the butter begins to foam, and eventually brown bits appear in the bottom of the pan. This will take about 5 minutes. As soon as the brown bits appear, remove from heat. Let cool for 10 minutes.
In a large bowl combine brown butter, vanilla extract, ground cardamom and powdered sugar. Whisk until the mixture comes together then add in 1 tablespoon of milk, continuing to mix for 3-4 minutes. Gradually add mmore milk until you reach the desired consistency. Drizzle the glaze over the cooled cookies.
Want to know about future Starbucks+Heal the Bay promotions?
healthebay.org/starbucks
for updates!