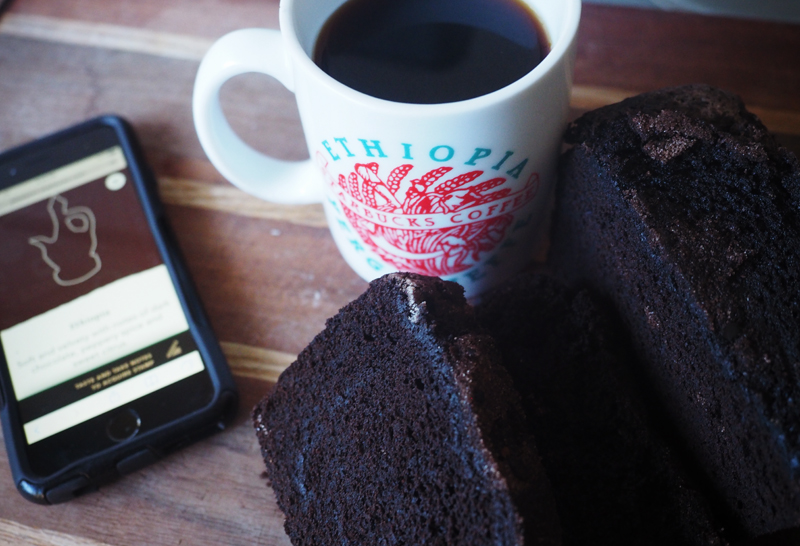 When people ask me about my favorite promotion at Starbucks, I always answer without hesitation. 2007 coffee is culinary campaign. A collaboration between chef Marcus Samuelsson and master blender Andrew Linnemann, this promotion brought us two spectacular coffees, two new bakery items, and a cookbook. The Joya del Dia and Ubora blend have never resurfaced, along with the caramelized apple pecan coffee cake, but the chocolate cinnamon bread has popped in and out a time or two. This bread was always my favorite. Intense, rich cocoa notes with a hint of cinnamon, and the best sugar-spice crust. 
I often reminisce about this era of Starbucks. We had recipe cards for the two new pastries, and handed them out to customers, to encourage them to bake at home and to pair them with specific coffees. In fact, this campaign is responsible for how I thought about coffee and it's relationship to food. Prior to working at Starbucks, the only thing I knew how to make was cereal and macaroni and cheese (from a box!) I remember making this bread and pairing it with the Joya del Dia blend, and it was good! Just like I bought it from Starbucks, but I made it with my own two hands. That is when I really decided I wanted to do more with food and coffee… Nine years later, here we are.
I wanted to pair this bread with Ethiopia because of it's velvety chocolate notes and subtle soft spice notes. For a fun coffee tasting activity, try comparing two single origins coffees with this bread; Guatemala and Ethiopia. 🙂
Chocolate Cinnamon bread
Author:
Starbucks Coffee Company
Ingredients
Chocolate batter
3 sticks unsalted butter at room temperature
3 cups granulated sugar
5 large eggs at room temperature
2 cups flour
1 ¼ cup dutch processed cocoa
1 tbsp ground cinnamon
1 tsp salt
½ tsp baking powder
½ tsp baking soda
1 cup buttermilk
¼ cup water
1 tsp vanilla

Cocoa Spice topping
¼ cup granulated sugar
¾ tsp cinnamon
½ tsp dutch processed cocoa
Pinch of ground ginger
Pinch of ground cloves
¼ cup sparkle sugar (for decorating)
Instructions
Preheat oven to 350 degrees. Generously prepare two loaf pans with non-stick spray or parchment.
Beat the butter and sugar until light and creamy, about 5 minutes. Then add the eggs, one at a time until fully incorporated. Scrape down the side of the bowl as needed.
Sift your flour, cocoa, cinnamon, salt, baking powder and baking soda. In a separate bowl, whisk together the buttermilk, water and vanilla. With your mixer on a low speed, begin adding the contents of each bowl to the butter mixture, alternating between the two until your mixture is fully blended. Then split your batter between the two pans.
Now to make the spice mixture. Mix the sugar cinnamon, cocoa, ginger and cloves in a bowl. I sift the cocoa to get rid of any lumps. I also omitted the sparkle sugar for decoration. If you are using it, spread the sparkle sugar on top of the loaves, then add the cocoa spice topping on top.
Bake for 45-50 minutes. Let cool in pan.