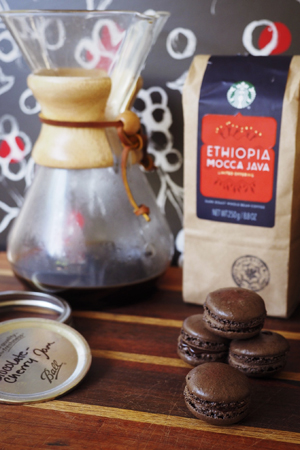 I have been hearing whispers of this coffee for several months, and I am so happy to finally have it in my hands. Ethiopia Mocca Java.
You might remember, a very long time ago, Starbucks used to offer a coffee called Arabian Mocha Java, a blend of Yemen Mocha Sanani and East Java coffee. This coffee would pop up here and again, but was finally discontinued in 2005. This new interpretation of the blend features naturally processed Ethiopian coffees and semi-washed coffees from West Java. The result is a rich, dark chocolate flavor with big ripe berry sweetness. Like a chocolate covered cherry!
Because of the roasty sweet and dark chocolate flavors, I knew I wanted to make my favorite dark chocolate macaron shells. What I love about making macarons, is you can easily change the filling, and you will have a totally different coffee tasting! Here is my recipe for the dark chocolate macaron shells.
When I started with Starbucks, in 2005, the second coffee I tasted was Arabian Mocha Sanani. We paired it with chocolate covered cherries, and my mind was blown. I didn't know coffee could taste like that, and it really was the first experience I had with food and coffee. I think back on that tasting often, and I wanted to give a tribute to that. So I decided I would make a chocolate cherry jam to fill my macarons with.
Since we are getting ready to move to Michigan, I have become obsessed with cherries, and I can't wait until cherry season in Michigan! With this recipe I used frozen cherries, but I can't wait to recreate it with fresh ones 🙂
When it comes to making jam.. I have no idea what I am doing. I kind of follow recipes, and just hope for the best.  This jam actually turned out really delicious, and would be so good on top of a scoop of vanilla bean ice cream! You just might see chocolate cherry jam pop up again in my future coffee tastings 🙂

chocolate cherry jam
Ingredients
1lb frozen sweet cherries
1½c sugar
1 T lemon juice
1 c dark chocolate (72%) roughly chopped
Instructions
In a preserving pan, mix the cherries with the sugar and lemon juice. Bring to the boil and cook 5 minutes, stirring gently and skimming carefully. Add the chocolate and stir until it melts. Pour into a ceramic bowl and cover with a sheet of parchment paper and refrigerate overnight.
The next day, return the mixture into a preserving pan. Continue cooking on high heat for about 5 minutes, constantly stirring. Return to a boil. Put the jam into sterilized jars immediately and seal.