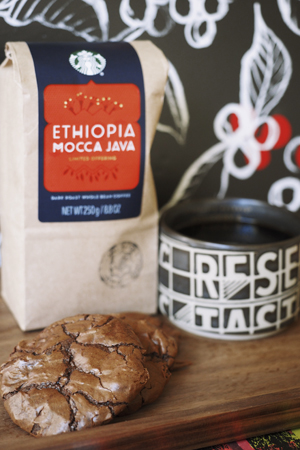 Ethiopia Mocca Java is my current muse. I have been stockpiling it to share and enjoy for the rest of the year. There is something about this coffee prepared in a french press. It's rich, bold and sweet, like a dessert in a cup. This is one I will miss when it's gone!
I have really been enjoying this coffee with a flourless chocolate cookies from Starbucks. I wanted to make something similar (sorry, this is not flourless!) but I wanted to incorporate the Ethiopia Mocca Java ground coffee into the cookie. The result is an intense, fudgey chocolate cookie, with a strong coffee flavor. If you don't have the Mocca Java, not to worry, this would be amazing with Caffe Verona as well!
I absolutely love the packaging for this coffee. 🙂
Ethiopia Mocca java with double chocolate cookies
Ingredients
10 ounces dark chocolate, coarsely chopped (70% cacao preferred)
¼ unsalted butter
⅓ cup flour
¼ t kosher salt
¼ t baking powder
1 T Ethiopia Mocca Java beans, finely ground
2 eggs at room temperature
¾ cup sugar
1 t pure vanilla extract
Instructions
Preheat oven to 350 degrees. Line baking sheets with parchment paper. Set aside
Melt 7oz of the chocolate with the butter in a double boiler. Set aside to slightly cool.
Sift the flour, salt and baking powder together in a small bowl. Add the ground coffee and set aside.
In a stand mixer, whip the eggs and sugar together until very thick and pale (about 3-4 minutes) Add vanilla and mix well.
Fold in the cooled chocolate mixture and then the dry ingredients. Finally, add the remaining 3 ounces of chopped chocolate.
Using a small scoop,drop rounded tablespoons on to the prepared cookie sheets, about 2" apart. Bake the cookies, one sheet at a time, for 8-10 minutes. They will become shiny and slightly puffed. Let the cookies cool completely before removing them from the baking sheets.
Since this coffee is very limited and only available in select markets, (PNW, Northern California and Chicago) I thought it would be fun to come up with some variations!
For example, substitute the Mocca Java with ground Ethiopia (core) and add a 1/4 teaspoon of cayenne.
Or maybe ground Pike Place and add 1 cup of toasted walnuts.
So many amazing combinations! Let's get those creative juices flowing, what other coffees & flavors would work together?