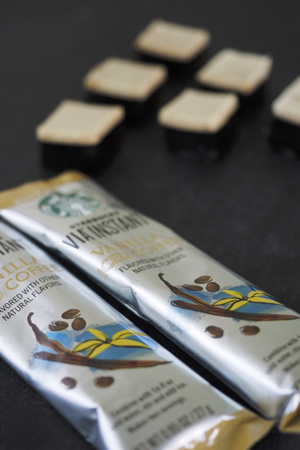 Six days from today, the movers will be here packing up my house. I will be without a kitchen for about three weeks, so blog posts will temporarily be on hold, but I will keep my other social sites  updated! This three week break away from the kitchen is terrifying to me, but at the same time, it gives me a lot of time to map out ideas. 🙂
This recipe has been on my to-do list for a long time, and I was so excited when we got the shipment of the iced vanilla via! Since we are going to be without all of our stuff for about three weeks, we will be living off via! This recipe is simple; a two layer jelly. One with the iced via, and one with a mixture of cream and sweetened condensed milk. It's a perfect on the go snack (or to add in your iced coffee!)
Traditionally, vietnamese iced coffee, or Cà phê đá, is a strongly brewed dark roast coffee combined with sweetened condensed milk. Coffee was first introduced to Vietnam in 1857, and because of the lack of fresh milk, they used sweetened condensed milk instead. The combination of the dark roast coffee and the sweet milk is addicting, and is one of my favorite summertime drinks!
This recipe uses Starbucks Vanilla iced coffee VIA, but you could use any type of VIA, or even freshly brewed coffee. Vietnamese iced coffee made with VIA… VIAtnamese iced coffee? 😉

Vietnamese iced coffee jelly made with starbucks via
Ingredients
For the coffee jelly:
3 sticks of Starbucks Vanilla iced VIA
2 packets of unflavored gelatin
2¼ cups cold water
For the milk jelly:
1 cup half and half
3 T sweetened condensed milk
1 T pure vanilla extract
2 packets of unflavored gelatin
Instructions
Using an immersion blender (or you could just use a whisk) blend the VIA with the water until fully dissolved. Add the packets of gelatin, and stir until dissolved. Pour into a 8x8 glass baking dish. Carefully tap pan against the counter to get rid of any bubbles. You may need to skim bubbles off the top with a spoon. Cover and let set in the refrigerator for at least 4 hours.
Once the coffee jelly is set, it's time to make the milk layer. Combine both milks and the vanilla extract, then stir in gelatin. Pour milk jelly mixture on top of the coffee jelly, and let set in the refrigerator for a few hours, or overnight before cutting.
Once the top layer is set, cut serve and enjoy!