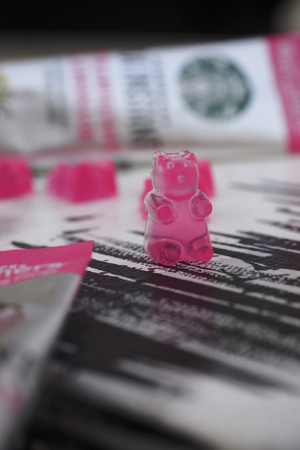 When we drove from Seattle to Michigan, we made the drive in 3.5 days. With the exception of the first day, they were all 12+ hour days. That drive was made possible by free Spotify premium (thank you Starbucks!!) and endless amounts of gummy bears. Seriously.
Now that we are here in Michigan, it is hot and humid, and I really do not want to fire up the oven. I saw these cute gummy bear molds on amazon, and discovered that I could actually make endless amounts of gummy bears. And even better, they could be caffeinated. And they can even be pink, to match this whole pink drink frenzy! 😉

These do not have the same texture as my favorite Habrio  gold bears, but they are delicious, and I can make them in any flavor I desire. I happened to have a bunch of Strawberry lemonade VIA refreshers, so I decided to experiment with these first. You can use any flavor of VIA, or any liquid really, and create mountains of gummy bears, in whatever colors you want. It's pretty much my dream come true.
If you don't have a gummy bear mold, you could use a sheet pan, and cut them into shapes. Not as cute, but just as delicious 😉

Strawberry lemonade refresher gummy bears
Ingredients
1 cup cold water
1 stick of Starbucks VIA refresher, Strawberry Lemonade
1 Tbsp. Lemon Juice
4 packets of Unflavored Gelatin
hot pink food coloring (optional)
Instructions
Place gummy bear molds on a sheet pan. This will make it easier to transfer into the refrigerator.
Heat the water on the stove. Add the VIA packet, and stir until completely dissolved. Bring to a boil.
Once boiling, remove from heat and add the lemon juice.
Gently whisk in the gelatin. Do this slowly to avoid clumping!
Once combined, allow mixture to cool for several minutes before pouring into molds. I like to use the eye dropper (it's less messy!) to fill the molds.
Place molds in fridge to set for about 2 hours. Once set, they are ready to pop out of the molds and eat!