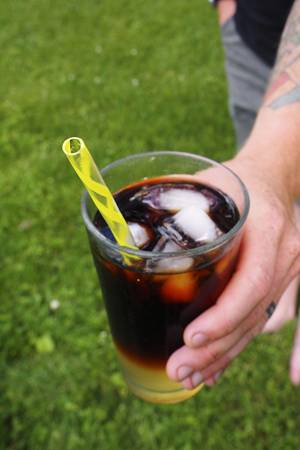 It's summer time, so that means it's shandy time! Typically a shandy is half beer half lemonade, but a few years ago I started playing with the idea of a Starbucks Shandy for those warm afternoons. The great thing about this drink is that it can easily be ordered and made in Starbucks stores, and it's also quite easy to make at home
I started making these as a way to introduce Willow blend to our customers and partners. Willow is kind of the forgotten Starbucks blend, but it is absolutely delicious prepared over ice, or made as a cold brew. I call it 'liquid sunshine'. Crisp and bright, with juicy lemon notes that blend perfectly with lemonade.
When I worked in a Reserve store, it was very easy to sample this drink with customers and partners. Pack a cup full of ice, fill it half way with lemonade (I do not sweeten it personally, but some like it with the addition of classic or mango) and top with the freshly brewed iced willow from the clover! If you're not in a clover store, you'll have to rely on the trusty pour over stand 🙂 If you're making these at home, you might want to consider making a cold brew with the Willow blend. It's a lighter coffee than I would normally choose, but it is so good!
Last week I brought a growler of the cold brew Willow to the Coast Guard station for them to try. It was so hot that day, and most of the guys over there don't drink coffee. They all loved it, including my husband, who is a strict dark roast kind of guy!
When making this at home, I went with Santa Cruz organic lemonade. You can use any brand of lemonade you'd like. The great thing about this drink, is you can easily adjust the recipe to your liking. Another thing you might try, is using a sparkling lemonade! That bit of effervescence will really make this into the ultimate cool down drink 🙂
Try it? Leave a comment and let me know  🙂