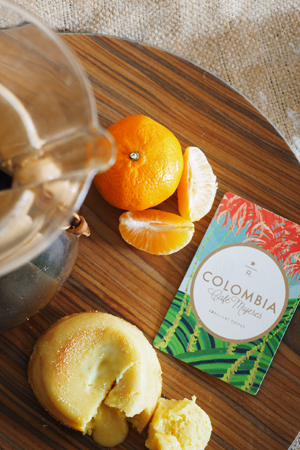 Colombia Café Mujeres was the Starbucks Reserve subscription for the month of June, and I had a heck of a time trying to get this coffee to my house!
My reserve subscription, even though I had updated my address before we moved, went to our house in Washington. I tried re-routing it with FedEx, I reached out to neighbors to watch for it, but the coffee had vanished. A friend suggested that I contact a partner on the reserve team, and she quickly sent a box to my new address in Michigan! I was so excited! Seeing that little black box on my doorstep is something I look forward to each and every month. Even more so since the Roastery is no longer in my backyard. I wanted to do a special tasting as a thank you to Jessica for coming to my rescue!
Normally, when you think of a lava cake, you think of chocolate. My initial plan was to create a mandarin orange curd to compliment the mandarin orange notes found in this coffee and the creamy mouthfeel. I decided to take it one step further by incorporating that curd into a white chocolate and mandarin cake. This was actually my first time making a lava cake, so it was truly an adventure!
Colombia Café Mujeres is a medium bodied coffee with a medium acidity. This floral and citrusy coffee pairs well with oranges and especially lemon loaf. To my knowledge, Colombia Café Mujeres was only offered for the Reserve subscription, but occasionally these coffees pop up in other markets. Sometimes at the Roastery in Seattle, or Japan!
The tasting card was designed by  Mia Gerbino, and there is a great article about the story behind this coffee and the artwork on 1912pike.com. I love learning the story behind what inspire the artwork, as the artwork usually will inspire my tastings!
Mandarin orange curd
Ingredients
3 large eggs
4-6 mandarin oranges
⅓ cup granulated sugar
4 tablespoons unsalted butter, cut into small pieces at room temperature
Instructions
Zest 4 mandarin oranges. Cut each mandarin in half and juice into a measuring cup until you have ½ cup of mandarin juice. I only needed to juice 4 mandarins, but you may need more depending on the size.
Over medium heat, begin simmering water in a saucepan that is sized to support a stainless steel bowl (should rest right above the water level)
In that stainless steel bowl, whisk together the eggs, sugar, and mandarin juice with a wire whisk, until combined and smooth. When the water is gently simmering, place the stainless steel bowl over the saucepan. Whisk constantly until mixture has thickened, anywhere from 5-10 minutes. When thickened, remove from heat and immediately whisk in butter until they have melted completely and are incorporated with the mixture.
Pour mixture into container for storage. Allow to cool completely and then refrigerate overnight.
Mandarin orange lava cake
Ingredients
5 ounces white chocolate
½ cup unsalted butter
⅔ cup flour (use the spoon & sweep method to avoid excess flour)
½ cup powdered sugar
½ cup mandarin orange curd
zest of one mandarin orange
1 teaspoon vanilla extract
4 large eggs
4 large egg yolks
more powdered sugar to garnish, if desired.
Instructions
Preheat oven to 425°F. Butter 6 ramekins. Place on baking sheet. Set aside.
In a large microwave safe bowl, microwave white chocolate and butter for 1 minute. Stir and continue microwaving in 15 second intervals until smooth.
Once melted, whisk in flour, powdered sugar, mandarin curd, mandarin zest and vanilla extract. Add eggs and egg yolks, whisking until well combined.
Divide evenly among prepared ramekins. Bake for 15 minutes, or until the edges are set and the tops begin to brown. Remove from oven and let stand for 5 minutes.
Run a butter knife around the edge of the cake to loosen the cake. Invert onto serving plate and top with powdered sugar, if desired. Serve immediately.
Don't have a Reserve subscription yet? Get one
here
. 🙂