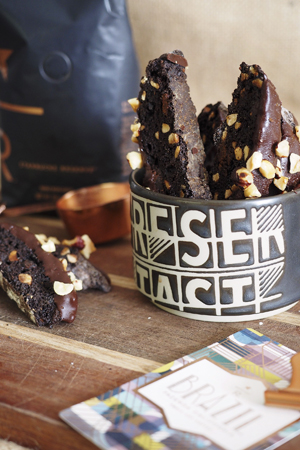 Brazil Fazenda California is easily one of my favorite reserve coffees that has launched so far this year. This low acid, medium bodied coffee has layered flavors of hazelnut and lemon. When I first tasted this coffee, I was instantly blown away by the hazelnut notes; so intense! Of course, when I think of hazelnut, I think of Nutella, so I wanted to do a nod to that.
I like to challenge myself in the kitchen. As a general rule, I do not like biscotti. It is too hard and crunchy, and it always taste stale to me. Coffee and biscotti are a classic combination, and maybe if I make it myself, I would like it (homemade is always better!)
The verdict. I like biscotti now.
What is a biscotti and why is it so crunchy? Biscotti is derived from the medieval Latin word biscoctus, which means 'twice baked'. Baked goods that were baked twice are very dry, and can be stored for long periods of time. The biscotti originated in Italy, and is traditionally dipped in a beverage (generally an Italian dessert wine). Working at Starbucks for so long, I have always seen people buy a biscotti to go with their coffee. I was never able to understand this. I am the extreme opposite, the one who wants the cookies baked for half the amount of time, so they are raw and messy.
On my quest to understand biscotti, I discovered that biscotti is a vehicle for flavors. You have your base cookie, and you can add what you want to it. You can even drizzle it with chocolate, or caramel, or whatever your heart desired. Endless possibilities, and that is something I love with coffee tastings.
This particular biscotti is loaded with hazelnuts, dark chocolate and whole bean Brazil Fazenda California. The end result, not only a delicious cookie, but also a perfect match for this coffee. I even found myself sneaking several biscotti upstairs with me while I wrote this article. If you are not a fan of biscotti, make some and give them a chance!!
Chocolate hazelnut biscotti
Ingredients
1¾ cups flour
1 cup sugar
⅓ cup dark cocoa powder
½ teaspoon freshly grated nutmeg
¼ teaspoon kosher salt
1 teaspoon baking soda
4 oz bittersweet chocolate, chopped
1 cup hazelnuts, chopped
¼ cup whole bean coffee, chopped (I used Brazil Fazenda California)
3 eggs
1 teaspoon vanilla extract
1 tablespoon of brewed Brazil Fazenda California (optional)
Instructions
Preheat oven to 350 degrees. Line a cookie sheet with parchment paper and spray with non stick spray.
In a large bowl, sift the flour, sugar, cocoa powder, nutmeg, salt and baking soda. Set aside. Blend in the chopped chocolate, hazelnuts and coffee*.
*To chop the coffee without making a huge mess, I put the beans in a plastic bag, and roll a rolling in over it several times. Alternatively, you can use a grinder, but I wanted pretty hefty chunks.
Beat the eggs and vanilla extract (and coffee, if using) in a small bowl. Slow add the dry ingredients, mixing throughly.
Divide the dough into two equal halves. Lightly flour each half and form into a 12 inch long "sausage
shape. Place dough on prepared cookie sheet.
Bake for 50 minutes. Remove from oven and let cool for about 10 minutes. Reset your oven for 300 degrees.
Transfer to a cutting board, and slice into sharply angled ½ inch slices. Place the slices cut side down on a cookie sheet and bake again for 40 minutes, turning once during the middle of baking.
Remove from oven and let cool. Store in an airtight container.
You can drizzle the cookies with chocolate if desired.