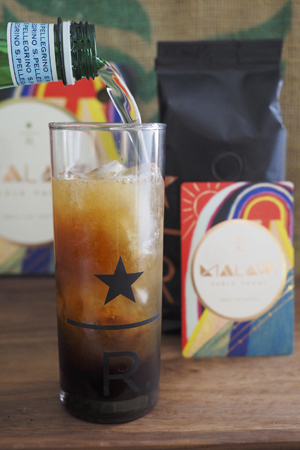 Last year, my husband and I went to Portland for the weekend. We went on our usual coffee crawl, and one of our stops, Barista, had a new drink on their menu. A coffee shrub spritzer. Espresso cold brewed with balsamic vinegar, maple syrup and sparkling water. I am one of those crazy 'apple cider vinegar cures everything' people, so I had to try it out of my love for everything vinegar.
The drink was oddly refreshing, sweet, tart and effervescent. I have had many shrubs before, but none quite like this. I knew I wanted to recreate this at some point, so I just filed it away in my memory bank.
Until now. 🙂
What is a shrub? A shrub is a cocktail or soda beverage that is made with a sweetened vinegar syrup and spirits and/or sparkling water. A proper shrub has a flavor that is both tart and sweet, so it stimulated the appetite while quenching thirst. This drink came about in the 15th century, and by the 19th century, fell out of population due to at home refrigeration. Drinking vinegars and shrubs have seen a comeback over the past few years in the craft cocktail scene.
The coffee shrub at Barista was great, but I did find it to be a bit heavy and aggressive in the acidity. As luck would have it, my sister sent me a bottle of cranberry white balsamic vinegar, and I just so happened to have a lone bag of Malawi Sable farms, which has these great cranberry notes. What if…
I found the original recipe for Barista's coffee shrub, and I decided to build off that, making small adjustments in the ingredients and ratios. Using white balsamic vinegar was key for me, as it has a cleaner finish and is not as viscous. The cranberry adds a depth to the shrub, creating a fresher, tart burst of flavor.
What you will need..
Coffee. You can use any coffee you would like, but try to select one that would compliment the type of vinegar you are using. Perhaps Ethiopia with a fig & vanilla balsamic vinegar? 🙂
Balsamic vinegar. Regular or white, the choice is yours. Flavored or unflavored. I like to be very wild and experimental with my coffee (if you couldn't tell)
Maple syrup. Use the real stuff. Please.
Agave. I really like Agave in the raw, but use whatever brand you like the most!

Coffee Shrub Spritzer
Author:
Inspired by Jed Klingensmith/Barista
Ingredients
1 1⁄2 cups cranberry infused white balsamic vinegar
1 1⁄2 cups coarsely ground Malawi Sable Farms
1 cup cold water
6 tbsp. agave syrup
6 tbsp. maple syrup
Chilled sparkling water, for serving
Instructions
In a medium bowl, combine the balsamic vinegar with the coffee and 1 cup water, cover with plastic wrap, and let sit at room temperature for 12 hours. Pour the liquid through a fine sieve lined with cheesecloth into another bowl and then stir in the agave and maple syrups. Store the coffee shrub in an airtight glass container in the refrigerator. The shrub will keep for up to 4 weeks
Fill a glass with ice. add 1.5 ounces of the coffee shrub. Top with 4 ounces of sparkling water. Stir and enjoy!
I absolutely love this beverage, and I can not wait to try it with other flavored vinegars & coffees. Next up on my list is Paradesi blend no 2 with a tangerine balsamic vinegar! While I love this drink, it is very polarizing. You either love it or you don't. My husband is still not sold on the idea of a coffee shrub, although he said he did like my version better than the one at Barista. Progress. 😉