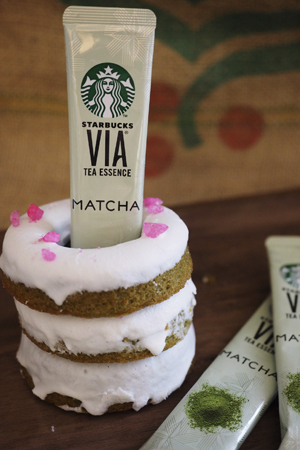 As you all know by now, I am a huge fan of the VIA category. This year, Starbucks Japan has released a Via matcha essence, which like the other products in the Via category, instant. Just add milk or water, and you have a matcha green tea latte in a flash!
I've been really obsessed with donuts lately (I usually am) A new donut shop opened in the area, with these massive donuts covered in bacon, and all kinds of other off the wall toppings. I decided I "had to" buy a donut pan to make donuts, because baked donuts are better for you 😉
The idea of green donuts might be kind of off putting, so I wanted to jazz them up with a white chocolate glaze, reminiscent of a cherry blossom.
Since this product has not been released in the United States, it might be difficult to find. Fret not, Teavana has a similar product that you can use in place of the Via essence. Imperial matcha sticks. These are sold at all Teavana stores, and online and contain 100% USDA organic matcha. (no sugar!!) There is also a chai matcha flavor, which would also be quite delicious! If you don't want to use an instant matcha, you can use regular matcha powder too, only decrease the amount used to only 1/2 a teaspoon.
Starbucks VIA Matcha donuts
Serves:
12 regular sized donuts
Ingredients
1¼ cups flour
½ cup sugar
½ tsp baking soda
½ tsp kosher salt
1 stick matcha Via essence
⅔ cup coconut oil, melted
½ cup whole milk
1 egg
½ tsp of white vinegar
1 tsp vanilla extract
Instructions
Preheat oven to 350. Prepare donut pans and set aside.
Mix the flour, sugar, baking soda, salt, and matcha via essence in a bowl.
In another bowl, mix the wet ingredients (coconut oil,milk, egg, white vinegar, and vanilla). Then combine the wet mixture with the dry mixture and stir until it's blended. Do not over mix.
Transfer batter into a piping bag and squeeze it into a regular sized donut pan (mini donut pan can also be used, but bake time will need to be adjusted.). Fill each cavity ¾ of the way full and bake for 10-12 minutes. After its done baking let it cool completely on cooling rack. Frost once completely cooled.
White chocolate glaze
Ingredients
¾ cup powdered sugar
3 Tablespoons coconut milk
1 teaspoon pure vanilla extract
¾ cup white chocolate chips
Rock candy or sprinkles (optional)
Instructions
Melt white chocolate, coconut milk and vanilla extract in a double boiler over medium-low heat. Allow to cool slightly. Whisk in powdered sugar.
Dip the tops of donuts in the glaze. Allow to slightly cool, and dip again.
Sprinkle rock candy or sprinkles on top! (optional)