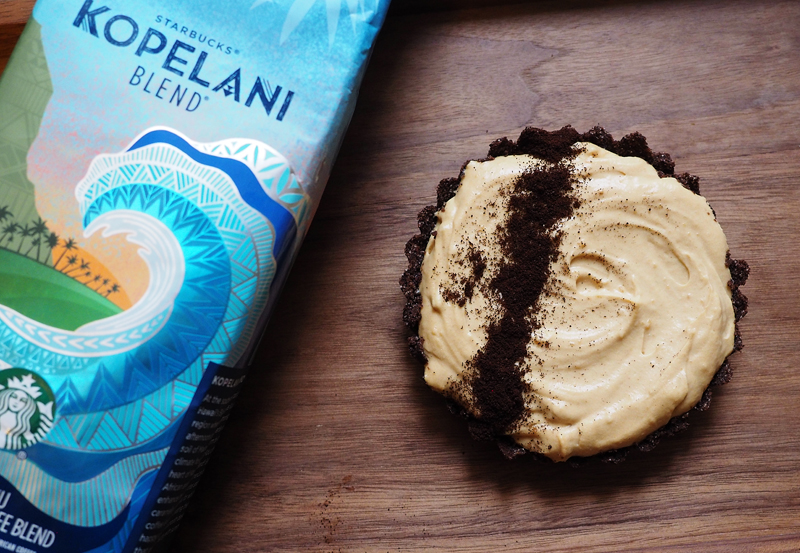 I am still obsessed with Kopelani blend. It has been my go to bean for cold brew for a few weeks. It makes the perfect cold brew, slightly sweet, rich, and heavenly. Kopelani translates to heavenly coffee, and I couldn't think of a more appropriate name. Since I have been making Kopelani cold brew non stop, I thought it would be fun to make something with the cold brew. This coffee forward no bake pie has a Kopelani infused crust, cold brewed Kopelani inside, and ground Kopelani on top as a garnish. Layers of flavors and textures, all using this amazing coffee.
I decided to make my own crust from scratch using chocolate graham crackers. I am so glad I did. Not only do the graham crackers lend a honey sweetness to the crust, but I was able to add ground Kopelani to the mix, and really make that crust pop. If you don't want to make your own crust, you can use a store bought one. Truth be told, I actually had the Oreo pie crust in my cart at the grocery store, but at the last minute decided to make my own.

Kopelani graham cracker crust
Ingredients
1½ cup finely ground chocolate graham crackers
2 T finely ground Kopelani blend (espresso grind)
½ cup granulated sugar
6 T unsalted butter, melted
Instructions
Preheat oven to 375
In a food processor, grind the graham crackers until they are a fine powder. This took about 1 and a half of the inner packages.
In a medium sized bowl, combine the graham cracker crumbs, ground coffee and sugar. Stir until combined.
Add melted butter, and stir until evenly coated.
Press mixture in to a prepared baking dish. I used mini tart pans, but you can use any standard pie dish. Bake for 7-8 minutes and let cool completely.
Now, once your crust is finished and cooled, it's time to start the filling. This is a very quick and easy recipe – no baking! 🙂
Kopelani Blend cold brew pie
Ingredients
2 ounces cream cheese, room temperature
¾ cup heavy cream
¼ cup powdered sugar
1 box (3.4oz) of instant vanilla pudding mix
¾ cup cold brewed coffee (kopelani)
1 T granulated sugar
½ cup of half and half
1 T pure vanilla extract
Instructions
In a stand mixer, combine the cream cheese and heavy cream. Beat on high until peaks form. Add powdered sugar, and continue to beat for 2 minutes.
Once the texture resembles whipped cream, slowly incorporate the other ingredients, starting with the vanilla pudding, sugar and cold brew. Add half and half and lastly, vanilla extract.
Pour mixture into prepared pie crust, and freeze overnight.
Garnish with ground Kopelani. Or whip cream & chocolate covered espresso beans 🙂
Pair with a glass of cold brewed
Kopelani
& you're good to go! 🙂