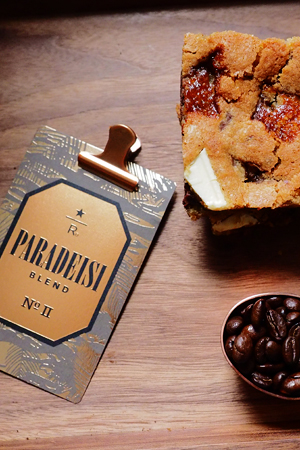 When I first started working at Starbucks in 2005, I was obsessed with the toffee almond bar. I think we all were. It was the most delicious blondie, with chunks of dark chocolate, white chocolate and toffee. It was, hands down, the best Starbucks pastry.  Every once in a while, a conversation will come up about "What Starbucks thing do you miss the most" The list is long, but toffee almond bars (and valencia!!) are always number one on my list. So I decided to make my own, and pair it with the Paradeisi Blend from the Roastery.
This blend of three single origin coffees from Colombia, Uganda and Papua New Guinea carries flavors of chocolate, caramel and butterscotch, and is a perfect pairing with the toffee almond bars!
This is the second version of Paradeisi blend that the Roastery has offered since opening in 2015. Paradeisi is a tribute to summer, and is delicious hot or over ice. The flavors of this blend are mainly citrus, but I wanted to draw out the underlying chocolate and caramel notes.
Paradeisi is a blend of' Colombia Café Mujeres, Uganda Sipi Falls and Papua New Guinea Luoka. All three of these coffees were available through the Roastery subscription.
Now, it's been so long since I have had a toffee almond bar, I almost forgot what they looked like. I remember big geometric chunks of toffee, milk chocolate and dark chocolate. I decided to make my own toffee, but you could just as easily go out and buy a skor bar, and chop it up. It's going to be delicious no matter what. Trust me 🙂

toffee
Ingredients
1 cup butter, cut into cubes
1 cup granulated sugar
¼ teaspoon kosher salt
1 teaspoon pure vanilla extract
Instructions
Line a small (I used a half size) sheet pan with non stick spray and parchment paper. Set aside.
In a saucepan, melt the butter, sugar, salt and vanilla over medium high heat. Stir constantly until the mixture reaches a dark golden brown color, about 10-15 minutes.
Remove from heat and pour into prepared pan. Let cool for at least 2 hours.
Toffee Almond bars
Ingredients
½ cup butter, softened
¾ cup light brown sugar, packed
1 teaspoon pure vanilla extract
1 large egg
1 cup all-purpose flour
2 tablespoons almond flour
½ teaspoon baking soda
½ teaspoon salt
1 milk chocolate baking bar
1 white chocolate baking bar
toffee pieces (see recipe above)
Instructions
Preheat your oven to 375 and prepare a 9x9 pyrex baking dish with cooking spray, set aside.
In a stand mixer, beat the butter and sugar until light and fluffy. I use this time to get my dry ingredients together in a bowl.
Once the butter and sugar are combined, add vanilla and egg, beat for an additional minute or so.
Slowly incorporate the dry ingredients with the wet, and stir until just combined.
Break up the chocolate bars and toffee into pieces, and stir into the batter. I like my bars to have a lot of chunks in them, so I did use both full size bars and about half the amount of toffee. Feel free to adjust to your needs.
Pour batter into prepared pan and bake for 20 minutes. Let cool in pan. You can pop it in the fridge to speed up the process and help the chocolate set. This is a good idea if you are using a lot of chocolate, like me 🙂