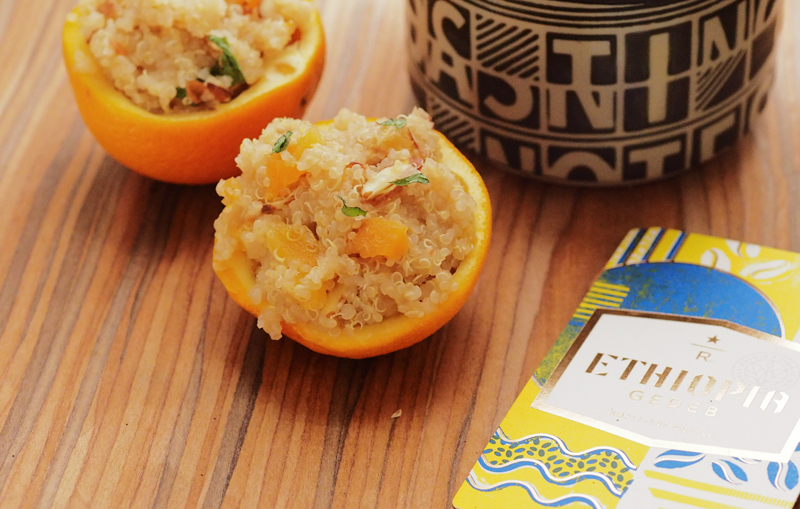 Ethiopia Gedeb launches in Starbucks Reserve stores on September 6th. I am so lucky to have friends from Seattle keep my coffee bar stocked with coffee from the Roastery, weeks before they launch in stores, so I am able to taste them and create recipes for partners. Ethiopia Gedeb is one of my favorite coffees released so far this year, and let me tell you, it makes an incredible cold brew! I wanted to create something that would pair well with cold brew iced coffee, so I thought a nice and light quinoa salad would be perfect!

If you've ever worked with me, you know I am all about presentation. I really love the idea of using hollowed out oranges as vessels – for sipping ice coffee, or filled with quinoa! It's all about making the experience unique and creating a memory around the coffee.

orange & ginger quinoa salad
Ingredients
1 cup quinoa
2 cups water
¼ cup dried apricots, coarsely chopped
¼ cup slivered almonds, toasted
¼ cup mint, chopped
2 tablespoons apricot preserves
2 tablespoons olive oil
1 tablespoon orange juice
1 tablespoon lemon juice
2 teaspoons ginger, grated
3 oranges cut in half for serving, optional
Instructions
Rinse quinoa before adding to a saucepan. Add 2 cups of water and the chopped apricots, and bring to a boil. Turn heat to medium, let cover and simmer for about 15 minutes. Once quinoa is cooked, use a fork to "fluff" it. Set aside until cool.
While you are waiting for your quinoa to cool, cut and pump the oranges. Reserve some of the juice. Combine orange juice, lemon juice, olive oil and apricot perserves in a small bowl. Whisk until combined. Add to quinoa, and stir until combined.
Then add the fresh chopped mint and toasted almonds. Spoon quinoa into the orange bowls and serve!