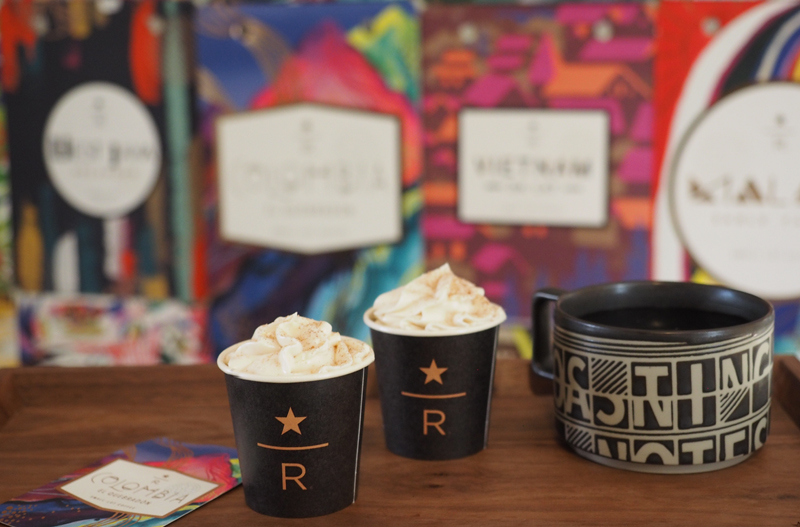 With the holidays approaching, the amount of baking I do drastically increases. I love baking treats and bringing them into my store! A few years ago I discovered that you can bake directly in to sample cups, so doing this is a staple once the red cups come out. There is nothing more adorable than a peppermint mocha cupcake baked into a red sample cup. I am getting a little ahead of myself. While I was in Sacramento, we had extra sample cups. The baristas gave them to me, and you know I brought them all the way back to Michigan with a project in mind. Reserve cupcake pairing. So here it is; Colombia El Quebradón with snickerdoodle cupcakes!
Fun fact. Did you know that Quebradón means "rough or hilly terrain"? Colombia El Quebradón comes from the Huila region of Colombia. Rugged mountains and beautiful views combined with high altitude and volcanic soil bring us a coffee rich in character. This has become one of my favorite reserves over the past few months. I just can't get over that brown sugar sweetness this coffee has. Previously I had paired this coffee with strawberries and snickerdoodles, but this time I really just wanted to focus on the brown sugar notes.
Baking in to sample cups is exactly the same as baking into a cupcake liner. I actually put the sample cups in each cavity of a cupcake pan, fill the cup up about half way (generally 3 tablespoons) and bake as normal.To remove the cupcake, gently loosen the edges with a knife and pop out, or just eat them with a fork, or with your hands 🙂

Snickerdoodle cupcakes
Ingredients
Cupcakes
1 ½ cup all purpose flour
1 teaspoon baking powder
¼ teaspoon salt
½ teaspoon cinnamon
½ cup butter, room temperature
1 ¼ cup sugar
2 eggs
1 teaspoon vanilla extract
¾ cup whole milk

Cinnamon Sugar topping
3 tablespoons ground cinnamon
3 tablespoons sugar
Cinnamon buttercream
1 stick butter, room temperature
3 cups powdered sugar
½ teaspoon vanilla extract
1 teaspoon ground cinnamon
3 Tablespoons half and half
Instructions
Preheat oven to 350 degrees.
Sift together flour, baking powder, salt and cinnamon.
In a separate bowl, beat sugar and cooled butter until light and fluffy. Then add eggs, vanilla extract and milk. Mix until well blended.
Combine dry and wet ingredients and mix until smooth.
Spoon into cupcake liners or sample cups. Spring a generous amount of the cinnamon sugar on top. Bake for 20-24 minutes, or until a toothpick comes out clean. Let cupcakes cool completely before frosting
To make the buttercream. In a stand mixer beat butter until light and fluffy. Add powdered sugar and beat for 4-5 minutes. Add vanilla extract and ground cinnamon. Add half and half until the desired consistency is reached.
Once the cupcakes are frosted, use any remaining cinnamon sugar topping to sprinkle on top.
One of my favorite places to shoot photographs for this blog is in my office. I dedicated one entire wall as my 'reserve wall'. I collected basket signs from the Reserve launch since the program started. I'm no longer in a reserve store, but I have managed to collect 60 tiles from friends as well. It's a vibrant wall that really makes my office a happy place.