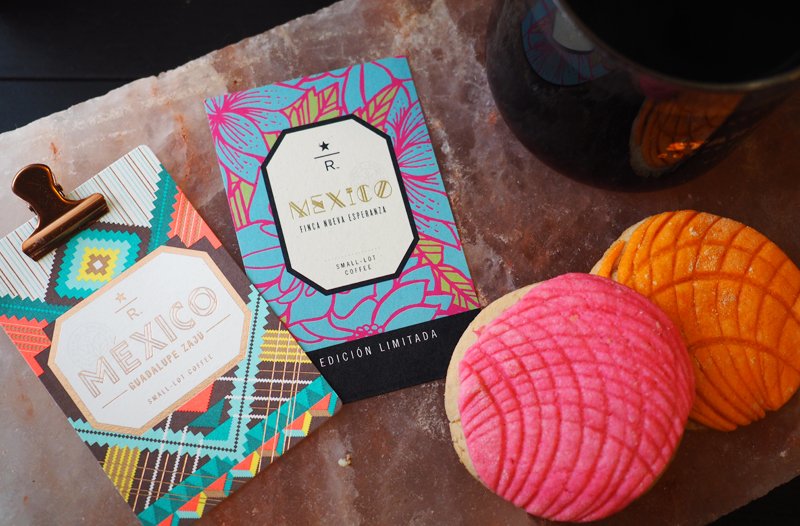 Every Friday, my store does something called French Press Friday. This idea was adopted from another partner, Cookie, who is on the other side of the country. Thanks to social media, we were able to connect and she inspired us to commit to doing french press Friday each and every week. By doing this, we have completed our passports, and now are moving on to Reserve coffees! I am kind of a coffee hoarder. I'll get a coffee, and keep it hidden until I have a special tasting or a meeting.  Mexico Guadalupe Zajú is the Reserve subscription for October, so I really wanted to use that, but the idea for this tasting goes a bit further back.
In March, at the Starbucks shareholders meeting, I was able to sample a reserve coffee I  had never seen or heard of before; Mexico Finca Nueva Esperanza. A few of the Roastery partners were sampling it on the siphon, and I was struck at how sweet and soft this coffee was, with vibrant notes of almond and lemon. I knew I had to have this coffee, and I knew that I wanted to make conchas, because the artwork of the card reminded me of the neon sugar paste. Getting this coffee was not an easy task..
Mexico Finca Nueva Esperanza was Mexico's first reserve coffee, and was exclusive to Mexico. I asked the Roastery if they were going to be selling it, and was told, sadly no. I looked online, but came up empty handed. Several weeks later, on facebook, a partner from Mexico contacted me and was selling the coffee and the limited edition box and asked if I was interested. Absolutely! And then I waited, and waited. Months went by, and still no coffee. I was certain I was scammed, but then one day, right before we were to move from Washington to Michigan, my mail lady delivered me a box from Mexico. I was overjoyed, I finally had this coffee. Now what to do with it?
This coffee has been on my mind since we arrived in Michigan. Once I found out that Mexico Chiapas was coming out for National coffee day, I wanted to do a comparison tasting between the two. Both coffees are from Chiapas, but are very different! Due to personal issues, that wasn't able to happen. Then I got the notice that my October subscription was Mexico Guadalupe Zajú, another coffee from Chiapas!
Mexico Finca Nueva Esperanza is a farm located in Concordia, in the department of Chiapas. Ricardo Baumann Brenner and his wife Celia purchased the farm in 1960. When Ricardo died 13 years later, Celia and their son, Alan, took over management of Finca Nueva Esperanza, which translates to "farm of new hope." (or farm of new wishes) For more than 40 years now, they've kept the operation running smoothly, managing the planting, harvesting, processing and drying on the farm.
This coffee is medium bodied with a high acidity, flavor notes of lemon and almond.
This coffee was exclusively offered in select stores in Mexico.
As I mentioned earlier, Mexico Guadalupe Zajú is the Starbucks Reserve subscription coffee for October. I am a huge fan of the subscription, and it gives me a little slice of Seattle every month. Generally, the subscription coffees are not found anywhere else, and it's always fun to try new coffees you might not have the chance to try otherwise.
Coffee has been a part of Eduardo Esteve's life for decades. He worked as a coffee trader for many years before deciding he wanted to become a coffee farmer himself. The Esteve family purchased the Guadalupe Zajú farm in 2003. Today, this first-generation farmer is committed to sound practices and continually improving the flavor and quality of his coffee.
Since it's October, and Day of the Dead is fast approaching (November 1st-2nd), I wanted to do a Day of the Dead themed tasting for french press Friday. Conchas, or pan dulce, is one of the most famous Mexican pastries, and is generally dipped in hot coffee. They are called conchas (shell) because of the sugar shell like pattern on top of the bread. These can sometimes be beautiful, vibrant colors, or sometimes more muted. Growing up in California, I always remember going to Denios and getting a pink concha. It was my favorite weekend treat. I wanted to pay tribute to my childhood, and make something new from my memories.
Now, I have never attempted conchas before, but I have heard the dough requires a lot of babysitting and can be temperamental. I thought, what if I could create the bright sugar design and bake it on top of something else. Something else that is a little bit more fool proof. Something like a cookie?! And that is how  concha cookies were born.

concha cookies
Ingredients
½ cup butter, room temperature
¼ cup coconut oil, room temperature
¾ cup sugar
2 eggs
2 teaspoons vanilla
½ teaspoon baking soda
½ teaspoon koshersalt
2¼ cups almond flour(slightly packed)
½ cup coconut flour



Sugar paste topping
⅓ cup granulated sugar
¼ cup margarine - do not use butter.
½ teaspoon pure vanilla extract
¼ teaspoon lemon extract (optional)
½ cup all-purpose flour, plus more for dusting
Gel food coloring, assorted colors (optional. I used neon gel colors)
Instructions
In the bowl of a stand mixer, cream together the butter, coconut oil, and sugar. Add the eggs and vanilla extract, mix until incorporated.
In a separate bowl, combine the baking soda, salt, almond flour, and coconut flour. With the mixer running on low, add the flour mixture to the creamed ingredients 1 cup at a time. Beat well after each addition.
Form the dough into a ball and place on a piece of plastic wrap. Form the dough into a disc and cover with plastic wrap. Refrigerate for at least and hour and up to overnight.
While you are waiting for the dough to chill, make the sugar paste topping.
Beat the sugar and margarine together until light and fluffy. Add in vanilla and lemon (if using) extracts. Stir in flour and mix until a thick dough forms. Add additional flour if needed. Divide dough into 3 or 4 even pieces and tint each with food color. If the dough becomes sticky from the food color, add more flour. Cover dough with plastic wrap until ready for use.
Preheat the oven to 350F. Line a 2 baking sheets with parchment paper.
Sprinkle a clean, flat surface with coconut flour and roll the dough out until it is ¼ thick. This dough ends up being quite sticky, so I used a generous amount of flour on the surface and rolling in. Cut out the cookies in desired shape. Since we are making conchas, I just did small circles.
Work quickly, you may need to put the dough back in the refrigerator for a few minutes to let it firm back up. Once you have cut out all cookies, put cookie sheets in the fridge while you cut out the sugar paste.
Roll out the sugar paste on a lightly floured surface. Cut into 2½-inch rounds with a cookie cutter or pastry ring. Use the pastry ring to score lines into the paste to resemble the ridges on a seashell. Transfer the scored sugar paste rounds to the cookies using an offset spatula. Is using the mooncake mold, roll out the dough and stamp the dough. Make sure you generously flour the dough before stamping so it doesn't stick.
Bake the cookies for 15-17 minutes, until lightly golden on the edges. Cool on a baking sheet for 2 minutes then transfer to a wire rack.
In addition to the traditional shell pattern, I decided to break out my Starbucks mooncake mold and stamp a few sirens! Honestly, they came out pretty adorable! The mooncake mold is not an official Starbucks item, as far as I know, but you can find one on eBay 🙂
And of course, no coffee tasting would be complete without my little quality assurance coffee master cats coming to check up on me. 😉