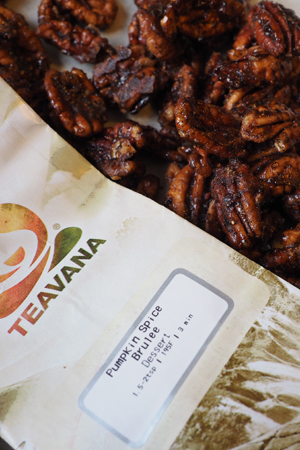 While I was in Sacramento, I stopped at Teavana and stocked up on their seasonal teas. (We do not have a Teavana store nearby, sadly). So many of my friends love pumpkin spice lattes at Starbucks, and I thought they might appreciate the pumpkin spice brûlée tea from Teavana. It's the perfect mix of pumpkin, cocoa, caramel, vanilla and ginger.
When I came up with this recipe, I wasn't planning on blogging about it, but I did post it on facebook, as I was tossing ingredients in the pan. My friend Melody, tried it, loved it and blogged about it! The response was overwhelmingly positive, so I thought I would add it here as well.
To compliment the warm spice notes these pecans have, I am pairing them with Starbucks Thanksgiving Blend!
My apologies for the uninspired post & pictures. I sliced open my right hand, and being a one handed barista/blogger is not an easy task. 🙂 I hope you enjoy the recipe below!
Teavana Pumpkin Spice Brûlée Candied Pecans
Ingredients
½ cup dark brown sugar, packed
¼ cup Teavana Pumpkin Spice Brûlée tea, finely ground.
Pinch of kosher salt
1 tablespoon butter
¼ cup water
3 cups pecan halves
Instructions
In a nonstick pan combine brown sugar, tea, salt, butter and water.
Melt over high heat. Once mixture starts bubbling, add pecans. Stir until they are thoroughly coated.
Turn the heat down to low and let cook for about 5 minutes, until the sugar starts to glaze.
Remove from heat, spread pecans on a plate and break apart once cool.