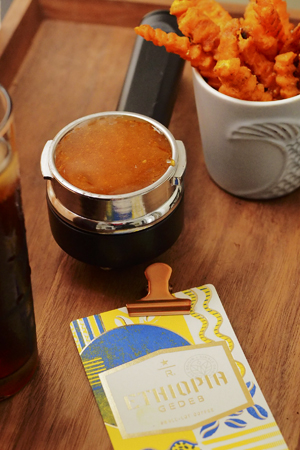 Growing up, around Christmas time, my mom would always make her famous curry and serve it with a mandarin orange salad. It is probably one of my fondest food memories. I wanted to take that idea of curry and mandarin oranges and apply it to a coffee tasting. Ethiopia Gedeb is the perfect coffee for this. Ethiopia Gedeb has intense apricot and ginger notes to it, I knew those flavors would compliment curry very well.
I wanted to create a tasting that was a twist on a classic snack; french fries and ketchup.
When my mom made curry for us growing up, she always bought her curry powder from a local farmers market. I remember going there with her, walls filled with giant mason jars with every spice mix you could imagine. I loved the smell of that place, and I still go there every time I visit Sacramento. I like to make my own spice mixes at home, to ensure freshness and quality. Plus it is a lot of fun. Alton Brown's recipe for curry powder is my go to, and I always have it on deck in my pantry.
Inspired by Alton Brown's new book, I also served up this apricot dipping sauce in a portafilter. If you haven't checked out Everyday Cook yet you really should. 🙂

Curry powder blend
Ingredients
2 tablespoons whole cumin seeds, toasted
2 tablespoons whole cardamom seeds, toasted
2 tablespoons whole coriander seeds, toasted
¼ cup ground turmeric
1 tablespoon dry mustard
1 teaspoon cayenne
Instructions
Place all ingredients in a container with an airtight lid. Shake to combine. Store in a cool dry place for up to 6 months. When ready to use, grind and add to dishes according to taste.
To make the fries, I just used frozen sweet potato fries, coated them with olive oil and liberally sprinkled curry powder on them, making sure the fries are evenly coated. Then cook per the bag instructions.
To make the apricot dipping sauce, take 1/2 of apricot jam and add 1 tablespoon of curry powder. Mix until very well combined, and serve! It's so easy to do, and delicious to boot!