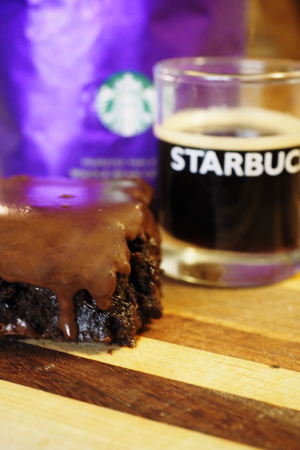 It's that time of year again. My favorite time of year, when the purple bags start showing up on the shelf. Christmas espresso is one of the coffees I stockpile, so I can enjoy it throughout the year. It is a bit different that Christmas blend, with it's own unique blend of beans and roast profile. With coffee from Costa Rica and aged Sumatra, this lively coffee makes the perfect shot of espresso. Woodsy with an herbal spiciness.
I might be kind of dating myself a bit here, but a long time ago, Starbucks used to carry these amazing espresso brownies. I used that as the inspiration for this tasting for National Espresso Day! (November 23rd)
First, I feel like I  have to apologize for the pictures. The brownies are delicious, but they are not the most photogenic thing I have ever made. You're just going to have to trust me on this. 😉
I mentioned earlier that Christmas espresso is not the same as Christmas blend, which is a common misconception. This is a similar blend, inspired by both Starbucks Christmas blend and Starbucks Espresso Roast, but with a unique recipe and roast profile. This coffee has Aged Sumatra, which what makes Christmas blend so special, but it also has other beans (non aged) from Sumatra, as well as Latin American beans from  Bella Vista F.W in Tres Rios, Costa Rica   to bring acidity to the blend. These coffee beans are slightly harder and denser than the Latin America coffees used in Starbucks Christmas Blend, which allows them to withstand the darker espresso roast.
Christmas espresso roast is cedary and has an herbal spiciness with an intense caramel sweetness. Very low acidity with a full body. Try this blend brewed in a french press or a pour over, and compare it to a shot of espresso. I love how woodsy this coffee is in a press.
Christmas espresso brownies with espresso ganache
Ingredients
10 tablespoons unsalted butter, room temperature
6 ounces bittersweet chocolate, chopped into pieces
¼ teaspoon kosher salt
1¼ cup granulated sugar
½ cup ground Starbucks Christmas Espresso (very fine grind)
3 large eggs
3 tablespoons cocoa powder
⅔ cup all purpose flour



Espresso ganache
1 cup semi sweet chocolate chips
⅓ cup heavy cream
2 oz Starbucks Christmas espresso (or a double shot of espresso)
1 tbsp unsalted butter
Instructions
Preheat the oven to 350ªF. Prepare an 8x8 square baking dish with cooking spray, set aside.
Fill a medium saucepan half way full with water and heat over medium heat. Place a glass bowl over the saucepan so that it rests in the saucepan without touching the water. Add the butter and chocolate and allow to melt completely. Remove from heat.
Stir in the sugar, salt and espresso grounds and continue to mix until the sugar is completely mixed. Add the eggs, one at a time, mixing throughly. Add the cocoa powder along with the flour and mix until incorporated. It is very important that you do not over mix the batter!
Pour the brownie batter into the prepared baking dish. Bake the brownies for 34-38 minutes. Let cool for 30 minutes, and then start preparing the ganache (recipe below)
Combine the chocolate chips, heavy cream, espresso and butter in a small sauce pan. Stir over low heat until smooth. Remove from heat and let cool until just slightly warm.
Pour the ganache over the brownies and place in the refrigerator to set.
Notes
For this recipe, I ground the espresso on an espresso grind setting. If you do not have a grinder, your local Starbucks does 🙂
For the ganache I used my at home espresso machine to pull a double shot of Christmas blend espresso. You can prepare the coffee any way, just use the same measurements, 2oz.
You can also substitute any other coffee, including Starbucks Espresso Roast, or Caffe Verona would be an excellent choice as well!
If you want, a box brownie mix can be used instead. Just add 1/2 cup of finely ground Christmas Espresso to the mix and bake per the instructions on the box.