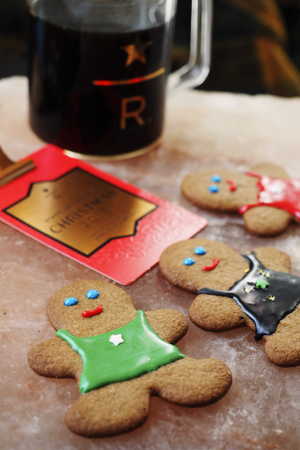 The holidays are all about tradition, and I love that Christmas Reserve has become part of my holiday tradition. Something I like to do every year is bake a gingerbread house with gingerbread baristas to go with it. Starbucks made my life easier this year by putting out a Starbucks gingerbread house, but I still wanted to bake my partners and pair it with something special.
With Aged Sumatra and our own coffee from Hacienda Alsacia, this coffee has the perfect balance of sweet and spice to pair with gingerbread cookies.
Christmas Reserve returned to the Roastery earlier this month, and will return to select Starbucks stores across the country on December 9th. This years Christmas Reserve is quite a bit lighter than last years, and I would say it verges on being a blonde roast. It still has those great mulling spice like flavors, combined with zesty orange and woodsy notes. It is a very complex cup, and is great served up hot, iced, or my current favorite; espresso! This makes a killer shot of espresso. More on that later.
I had a meeting, so I decided to surprise my partners by baking our store. The gingerbread pairs perfectly with this coffee, and I even added a surprise of cardamom to bring a bit of the floral notes out. As you can see, I am not very good at icing cookies, but they turned out pretty cute. If you are not a baker, you can even use a box gingerbread cookie mix! (Just add 1/2 teaspoon of cardamom to the mix!)
Christmas Reserve with gingerbread baristas
Ingredients
½ cup (1 stick) unsalted butter, room temperature
⅓ cup (packed) dark brown sugar
⅓ cup molasses
1 large egg
3 to 3¼ cups all-purpose flour
3 tablespoons cornstarch
2 tablespoons ground cinnamon
2 tablespoons ground ginger
½ teaspoon ground cardamom
½ teaspoon ground cloves
½ teaspoon kosher salt
Instructions
Preheat the oven to 375 degrees, and prepare baking sheets with parchment paper.
Beat the butter and brown sugar on medium-low speed just until fully incorporated. Stir in the molasses. Scrape the bottom and sides of the mixing bowl with a spatula, and add the egg. When nearly completely blended, add 2 cups of flour, cornstarch, cinnamon, ginger, cloves, cardamom and salt. Mix until incorporated Add more flour, ¼ cup at a time.
Place half of the dough between two sheets of parchment, and roll to a thickness of about 3/16-inch. Cut shapes using a cookie cutter, and transfer to the prepared baking sheets. Repeat with the rest of the dough. Bake for 12 minutes, or until set around the edges and firm in the middle. Allow cookies to cool for 1 minute on the sheet and then transfer to a wire rack. Cool completely and decorate with icing.