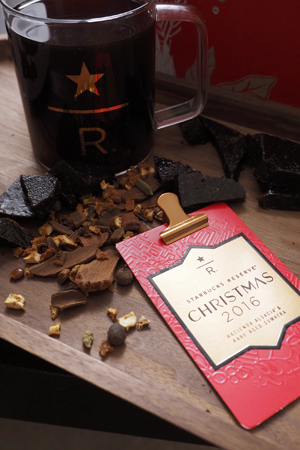 I have really been enjoying this years Christmas Reserve. I love the flavor combinations of the mulling spices and orange, layers of flavors unfolding with each sip. This year, Christmas is so different for me. This is my first white Christmas, and while I am not particularly fond of the snow, I think it has boosted my holiday spirits.
Christmas reserve has woodsy aromas and holiday accents of mulled spices and orange zest, and is the perfect holiday coffee. I wanted to create something for those who might not be on Santa's good list this year 😉 My interpretation of a lump of coal; molasses toffee infused with coffee and mulling spices.
Traditionally, mulling spices are a blend of spices used to make apple cider, and other holiday-ish type drinks. The combination of spices varies, but I used a blend that has cinnamon, cardamom, clove, star anise, all spice and orange peel. You can find it at Cost Plus World Market.
Christmas Reserve and mulling spiced toffee
Ingredients
1 stick unsalted butter, cubed
1 cup sugar
⅓ cup water
¾ cup molasses
2 tablespoons light corn syrup
2 tablespoons Starbucks Reserve Christmas blend, ground very fine
1 tablespoon mulling spices, ground*
pinch of kosher salt
Instructions
Prepare a square baking dish with non stick spray. Set aside.
In a medium saucepan, combine all all of the ingredients over a low-medium heat. Stir to melt the butter and dissolve the sugar.
Once the sugar has dissolved, turn the heat up a little bit and bring the mixture to a boil, stirring from time to time. Attach a candy thermometer to the side of the pan and allow to cook until you reach 260 degrees (hard ball stage).
Remove pan from heat and give it a quick stir before pouring into the prepared pan. Let cool completely (or overnight) before breaking it into pieces.
Store in an airtight container for up to a week.
Notes
* if you do not have mulling spices available, you can use 1 teaspoon of ground cardamom and ½ teaspoon of ground cinnamon as a substitution.